We've covered 7 passenger vehicles in another of our articles. That article had info on all types of vehicles that could seat seven or more people. It included SUVs, but it also include monstrous vans and people movies.
Here, we refine our focus a bit to give the SUV lover a more detailed guide on a very specific type of vehicle: the best 7 passenger SUVs of 2014. Really, if you're looking into 7 passenger vehicles, SUVs are probably some of the best options unless you have really unique needs, like towing or carrying very large groups.
The best 7 passenger SUVs offer a combination of space, utility and luxury. They make it easy and comfortable to haul your kids (and your kids' friends) around while also providing a nice driving experience for you. And at the end of the day, that's what's really important, right? You want something that gets the job done but is still nice to drive.
And there are no shortage of options in the market, either (espeically if you're willing to consider 6-seat vehicles). So it can certainly be daunting to find the best 7 passenger SUV for you and your family. As always, we've done a bit of research to make your job easier. Check it out:
Best 7 Passenger SUVs
| | Vehicle | MSRP | MPG | Seats | Engine | Rating |
| --- | --- | --- | --- | --- | --- | --- |
| | GMC Acadia | $34,335 | 17/24 | 8 | 3.6L V-6 | 4.8 |
| | Volvo XC90 | $39,700 | 16/25 | 7 | 3.2L I-6 | 4.7 |
| | Dodge Durango | $29,795 | 16/25 | 7 | 3.6L V-6 | 4.8 |
| | Chevy Travers | $30,795 | 17/24 | 8 | 3.6L V-6 | 4.8 |
| | Lexus LX 570 | $81,780 | 12/17 | 7 | 5.7L V-8 | 4.4 |
| | Cadillac Escalade Hybrid | $70,570 | 20/23 | 8 | 6.0L V-8 | 4.1 |
| | Chevy Suburban | $46,300 | 15/21 | 9 | 5.3L V-8 | 4.6 |
| | Ford Expedition | $41,635 | 14/20 | 8 | 5.4L V-8 | 4.8 |
| | Mitsubishi Outlander | $22,995 | 25/31 | 7 | 3.0L V-6 | 3.9 |
| | Hyundai Sante Fe | $31,550 | 19/27 | 7 | 3.3L V-6 | 4.2 |
| | Mercedes-Benz GL-Class | $63,000 | 13/17 | 7 | 5.5L V-8 | 4.9 |
| | Cadillac Escalade | $83,070 | 13/18 | 7 | 6.2L V-8 | 4.7 |
| | Lincoln Naviagor | $58,850 | 13/18 | 7 | 5.4L V-8 | 4.2 |
| | GMC Acadia | $48,675 | 16/23 | 7 | 3.6L V-6 | 4.8 |
| | Buick Enclave | $48,315 | 16/22 | 7 | 3.6L V-6 | 4.0 |
| | Mazda CX-9 | $36,625 | 16/22 | 7 | 3.7L V-6 | 4.4 |
| | Chevrolet Tahoe | $59,360 | 15/21 | 7 | 5.3L V-8 | 4.7 |
| | Toyota Land Cruiser | $78,755 | 13/18 | 8 | 5.7L V-8 | 4.3 |
| | Audi Q7 | $60,900 | 16/22 | 7 | 3.0L V-6 | 4.9 |
That should give you a good start if you're looking for raw data, but we also wanted to share some more detailed information on a few select SUVs that we'd recommend to anyone. So, here are a few of our favorite vehicles in this class.
2014 Dodge Durango
The 2014 Dodge Durango is a surprisingly affordable option for the quality of vehicle you get. In other words, you get a lot of bang for your buck here. The Durango has a bit of a fuzzy identity, however, as it's not quite a crossover, and it's not quite as concerned with off-roading as other SUVs. Still, it shares a chassis with the Mercedes GL-Class, so it has a pretty rough-and-tumble build. The Durango almost creates its own genre, especially with the new, bold front-end styling, which gives the SUV a very American feel.
In addition to the new front-end look, the Durango also enjoys a few other new styling components, such as new LED running lights and HID headlights (Top R/T and Citadel models only). This year's model also features a redesigned hood and a lower, more aggressive front body panel.
In the performance department, the Durango gets a new drivetrain in 2014. In fact, it gets the same 8-speed automatic transmission that you'll find in the Jeep Grand Cherokee – and it's an absolutely excellent transmission. Having eight gears to work with may seem like overkill to some, but the extra levels of torque can add performance and utility. The tranny is connected to a big ol' HEMI V8, which puts out 360 horsepower and 390 lb-ft of torque at the wheels. Not too shabby.
The Durango loses points in one category only: gas mileage. We know the engine is big, but if you have eight gears to work with, you should be able to take advantage of at least some of them to squeeze a few more MPGs out of the gas tank. And really, the gas mileage is better than ever, but it's not as good as we'd expect for this transmission.
In all other categories, the Durango gets high marks, and it comes in at about half of some of the other models in this article. If you've got a family, and you're looking to purchase some long-term luxury that gets the job done, this is probably we're you should start.
2014 Chevy Traverse
How about a change of pace? With much more emphasis on comfort than performance, the 2014 Chevy Traverse is considerably tamer than the Durango. The Traverse is clearly marketed to families who want a 7 passenger vehicle that basically does everything – but who are not car people.
What's that mean? Well, basically, the emphasis is on the ride, while the vehicle drives a bit like a bath tub. As far as comfort, it rarely gets better than this. The ride is exceptionally smooth, and, more than anything, it's very, very quiet. That makes this car great for road trips; you could easily take this bad boy across country and still have all your vertebrae intact when you arrive.
However, the Traverse certainly seems to drive heavy. You can just kind of feel the weight of the car. Additionally, ti's got higher wheel clearance than we typically like to see (at least in a car that already has a clumsy feel) and a high load floor, making it feel unstable in sharp turns – which is not something you want in an SUV.
Still, what it lacks in performance it really does make up for in ride quality and utility. It's got a simple, but comfortable interior and plenty of space for the kids or dogs or whomever else you're driving around.
Additionally, the Traverse comes equipped with the very easy-to-use MyLink infotainment system, harkening to its almost minivan-esque roots. As with the Durango (and many SUVs in this class), the gas mileage is mostly unimpressive.
This probably isn't a great choice for the young rap star who needs a bunch of seats for his entourage; it's a family car through and through. But it's a damn good family car – and a pretty affordable one at that.
2014 GMC Acadia
The GMC Acadia is another heavy SUV with decent performance and fuel economy that's about par for the course. So why is it on our list? Because it gets top marks for both safety and comfort, and because we think it's a very good-looking car.
For some reason, GMC's SUVs always kind of shock us. It's almost as if we don't expect them to be good. Most of that, I think, comes from GMC's brand recognition as a truck company. We think of them almost as a low-comfort-but-high-utility vehicle manufacturer.
The GMC Acadia proves us wrong on all fronts. This is a pure-bred, comfort-first people mover that can seat up to 8 people comfortably. The interior space is really impressive, and even with eight people in the car, it's incredibly roomy. It also features fold-away third row seating and optional entertainment system for the passengers in the back. Add to that ergonomic leather seats and you've got yourself a hotel on wheels. Well, not really, but it's pretty close.
As we mentioned, the performance isn't super impressive, but there are a few features that help make the Acadia a contender in this category. Namely, the big V6 motor comes with an all-wheel drive transmission. So, while this car feels very much like it weighs 5,000 lbs (which it does), it does handle relatively well in adverse weather conditions. Along the same lines, the Acadia's acceleration isn't all together terrible.
That is part of why this SUV gets top marks for safety. Other safety features include a standard rear-facing camera system and front-center airbag, a safety measure against impacts from the side. If you buy this car new, you'll also get OnStar with six months of service.
The Acadia isn't as well-known as some of the other SUVs in this class, but it should be. It's a very good luxury vehicle, and if safety is one of your main criteria, it's probably your best bet.
2014 Volvo XC90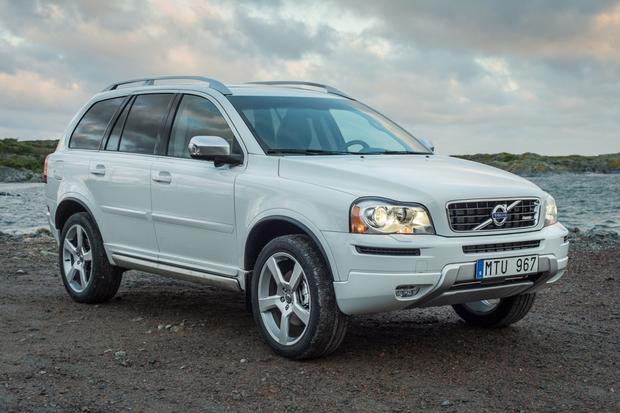 There's something to be said for a model so good you don't need to change it. And that's exactly the case with Volvo's XC90. This model hasn't changed much since about 2003, and that's because it didn't need to. Even with relatively minor upgrades, the XC90, one of the last true crossovers in this class, remains one of the best 7 passenger SUVs you can buy.
Just to be clear, this is no minivan. This is a crossover SUV for families who value luxury and brand recognition just as much as they value safety. Plus, true to Volvo's legacy, it is also one of the safest vehicles in this class, beat out only by the GMC Acadia and one or two others.
We may have misled you a bit when we said this vehicle hasn't been changed much. Because, while the look and feel haven't changed much, the Volvo XC90 has more technology than ever before. For example, this year's XC90s come with an advanced climate  control system, Sirius satellite radio, rain-sensing wipes and Bluetooth connectivity – all standard. And, of course, you can opt for several other optional features if you like.
The car's got a smooth, responsive engine and transmission, although we would have liked it to handle slightly better than it did. It's safe, but it's not agile. And, again, in the tradition of bigger SUVs, the fuel economy is workable, but it could certainly be improved.
The seating is both a pro and a con. The first two rows offer absolutely amazing seating with loads of room. The third, row, however, is weirdly tight. Volvo could have easily moved the second row up a few inches. However, we imagine their market is for mid-sized families who will mostly be driving 2-3 kids and only occasionally have people in the third seat.
In any case, the Volvo XC90 is a safe, luxurious option at a mid-level price range.