In our quest to bring you the absolute best information in comparative car analysis (the affectionate name we've given to our field of study), we've covered plenty of smaller cars and plenty of bigger cars. So, this article is a bit more precise. Here, we cover SUVs that carry exactly 8 people. No more. No less. Well, you can carry less if you want. But you get the point.
Still, this is a fairly difficult category. There's plenty of above-average vehicles. In fact, all the cars we review here are certainly above average. However, there are very great vehicles. Really, there's only one vehicle we think is really stellar (which is why we've declared it the winner).
A few things to watch out for…
There are a couple things you should know about this class before you go out to make a purchase. Because, while 8 passenger SUVs do a couple of things really well, most have the same basic drawbacks more or less across the board.
Most importantly, like most big classes, 8 passenger SUVs usually don't get great gas mileage. Mostly, it's because they're big vehicles; however, unless we're talking about hybrids, there's also been remarkably little technological advancement in the fuel economy of large SUVs. Some are better than others, but most get points off for bad MPGs. So keep that in mind.
Additionally, larger SUVs have a tendency to be more expensive for what you get than other classes. Even if the base MSRP isn't super expensive, SUVs, as a class, are definitely prone to the curse of options. For some cars, you can increase your cost by up to $30,000 just with options. This is often possible elsewhere, but it's especially true with 8 passenger SUVs. So, just be careful, and don't take MSRPs at face value.
A few things to look forward to…
Just as there are things to watch out for, there are plenty of things this class does well. First, you usually get tons of cubic feet per dollar. In other words, most of the time, you get lots of space. Space, space, space. That's the name of the game in this class. Manufacturers recognize that most buyers are purchasing this type of vehicle because they need tons of room, so they typically don't skimp in that department. And that's true of all types of space: leg room, cabin room and ceiling height. You can expect to be very comfortable in an 8 passenger SUV.
Another typical advantage of these cars is ride quality. They are very big vehicles that will often be increasing their loads by hundreds – or even thousands – of pounds. Because of this, manufacturers usually install high quality suspension systems, which usually makes for very smooth rides in addition to increasing load-bearing capability.
So what's the best one? Here's our winner!
2014 Chevy Traverse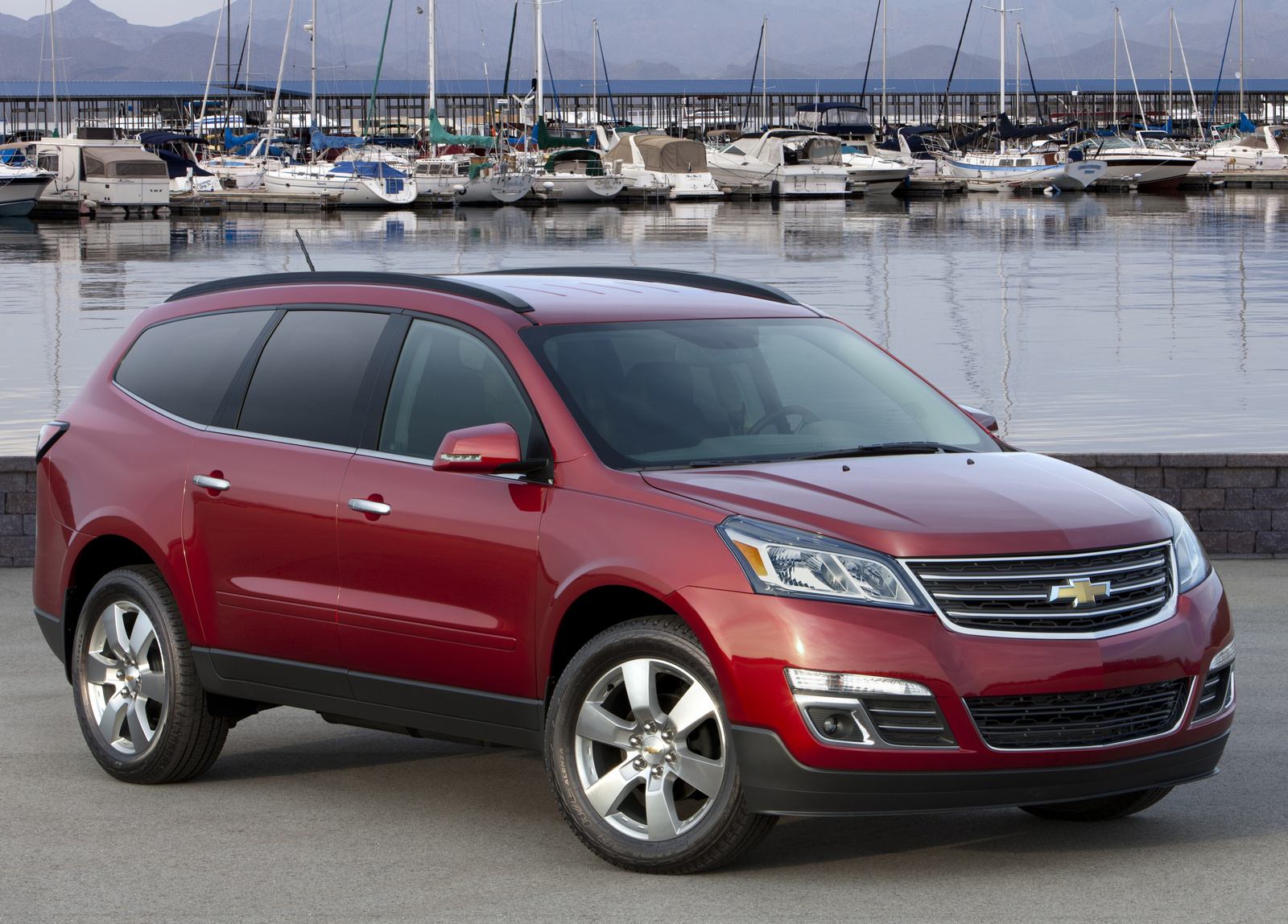 Our vote for the best 8 passenger SUV is the Chevy Traverse. The Traverse offers nearly everything a big family might be looking for in a larger SUV.
Most importantly, though, is safety. This vehicle is one hell of a safe car. Seriously. It got some of the best crash test scores of all cars in the US. Additionally, it offers some unique safety features that no other car on the market offers.
For example, it's one of the first vehicles offer a front center side airbag, which is built directly into the driver's seat and protects the driver from spinal injuries in the event of certain types of side-impact accidents. It also includes a rear-view camera system, parking system, a hill-start driving assist system, and head curtain side airbags. As if that weren't enough, the Traverse also comes equipped with blind spot alerts, forward collision alerts and warnings for if you're about to accidentally leave your lane. So, yeah, this car has the works when it comes to safety, and that makes a big difference to a lot of families.
This car also gets very high marks for comfort and quality. In fact, of all the SUVs in this class, the Traverse is among the most spacious. The front seats are a great blend of soft and squishy yet supportive, and there's plenty of room in the back seating rows.
The Traverse also enjoys some suspension improvements this year, making an already good ride a great one. Complementing the comfortable ride, the Traverse employs a high-quality switch-gear transmission, which minimizes the lurch between gears. Plus, in the cabin, the controls are laid out comfortably and in a way that makes lots of intuitive sense – and that makes a big difference if you're one of those people who gets easily frustrated at clumsy, complicated controls.
Still, like lots of cars in this category (and like we mentioned earlier), the Traverse suffers from less-than-ideal gas mileage. It's just the curse of the category, and if you're seriously thinking about purchasing al large SUV, we've tried to prepare you for this reality anyway.
Additionally, even though the ride is comfortable, it's heavy. It feels heavy. Plus, there's a high load floor. Those two things combined – a slightly heavy ride and a relatively high load floor – can sometimes make you feel like you're driving a bathtub. However, in our minds, these are only small concessions if you're thinking about making the move from a smaller car to a larger SUV capable of carrying eight people or more.
Runners Up:
2014 Toyota Land Cruiser
If nothing else, the Toyota Land Cruiser is fun. It's a monster of a vehicle that has the power to inspire confidence by the sheer size of its frame. Really, driving this car is a bit like driving a monster truck. Well, it's not that big, but it definitely feels that way, and it's a lot of fun.
It's also a true off-roader. It has no trouble at all on dirt paths or rugged hills. We wouldn't recommend taking it mudding or anything, but it can certainly handle a bit of terrain. The car is powered by a massive (and remarkably smooth V8) that gives it a bit of sportiness as well as a respectable towing capacity.
However, where's there's good, there's bad. Black, white. Ying, yang. And for the Land Cruiser, that mostly comes in the form of gas mileage. In fact, it's embarrassing. If you go with this car, be prepared to pay a lot in fuel. It's also not very comfortable, which is something we've come to expect in this class.
So, ironically, this car feels more like a bachelor's car rather than a family car, making it a bit of an anomaly in a class dominated by family vehicles. Oh, and it's also ridiculously expensive. So if you've got the money to throw around, and raw power-driven fun is the most important thing to you, it could be a good choice.
2014 Lexus LX 570
The Lexus LX 570 is one of the only true luxury vehicles in this class. And the price tag shows it. It's going to run you about $80,000 – and probably a bit more if you add in an option or two. However, it's definitely a nice luxury vehicle.
More than nice, really, it's a classy luxury vehicle. What do we mean by that? Well, it's not just plush leather with a bunch of bells and whistles. As soon as you sit in the car, it's obvious Lexus was paying lots of attention to design. A strong effort was made here to create a simple luxury vehicle. And in a world of intense competition – a world in which the first car to have the latest technology often wins – betting the farm on simplicity is a bold (and welcome) move. And for this car, it really pays off.
The controls in the cabin are laid out in a simple, straight-forward intuitive design. And, while there are enough little details in the car to make it feel like you're getting your money's worth (almost), it doesn't feel overdone. It's like buying a handbag from an individual master craftsman – this is not Louis Vuitton.
Plus, the LX 570 is one of the few cars in this class with real towing capacity. It's got the horsepower and torque to pull real loads, and it's got the suspension and traction control to keep its footing. Honestly, it's on par with some of the luxury trucks in the market. For all its class, the Lexus LX 570 has a really beefy powertrain.
So why doesn't it top our list? Well, first, the price. We often find it difficult to recommend super expensive luxury cars because not many people can afford them. Secondly, like all the other runners up, the gas mileage is atrocious. Finally, the third row of seats can't be removed, like it can in nearly all other vehicles in this category (that's something that's relatively standard nowadays, and it should be expected of a luxury vehicle).
So, while this is a great car with lots of power and utility, we found it moderately impractical for most drivers.
Honorable mentions: