We recently posted an article exploring cars that can be purchased for under $3,000. We have had some requests to take it even further. We are going to be reviewing  the best cars under $1,000. It's definitely difficult to find a car under $1,000, but it's certainly not impossible.
The trick is figuring out what is absolutely importing to you and focusing completely on that when you're looking for a car. If safety is most important to you, then look for a car that lacks in speed, but had excellent safety ratings. If you're looking for a speedy second car, maybe it's best to look for a car that might not get the best gas mileage, but it very quick. There are tons of different options, and we will go through them all in just a moment.
It's not always about picking the features you want and forfeiting others. You truly have to be careful when you're buying a car for $1,000. You must ask yourself why the owner is selling this car for so cheap? Is it just old? Does it have cosmetic issues? Or worst, does it have major engine issues? When you search for a car under $1,000, it's very important to have it checked out by a mechanic. There is some reason for it being so inexpensive. If it's just an older model, you're in the clear. However, if it has engine issues, you want to stay away.
What are the Best Cars for Under $1,000
We're going to focus on both makes and specific models here. Some makes don't have great resale rates. Usually this isn't for any particular reason other than they are just a really standard car, and they aren't highly desirable.
Toyota Camry:
There is absolutely nothing wrong with Toyota Camrys. However, you can always find them for insanely cheap because they are such a standard car. They simply aren't highly desired. But they are reliable, they're great on gas mileage, the are inexpensive to fix and they are inexpensive to maintain.
If you can find a Toyota Camry for cheap, it's almost always a good idea to pick it up if you find the records, and make sure it hasn't been in any major crashes or has any serious, ongoing repairs. However, don't get attached to the idea of obtaining full records for this vehicle or any other. If it is to the point where someone is selling it for $1,000, it's probably past the point of having a complete, comprehensive record of all the repairs, oil changes, and maintenance that it has had.
Kia: 
Kias are another simple, standard vehicle. They can almost always be found for less than $1,000 if you know where to look. They aren't highly desirable for trade-in or resell. So if you do through a dealership or an individual, you're sure to find a good deal on a Kia.
Since Kia is so standard and sometimes undesirable, they have to have an edge to compete. Because of this, Kias are pioneers in top tier gas mileage. I mean, their vehicles were getting 30+ MPG over twenty years ago! They're also very inexpensive to repair and maintain. We have found plenty of people who were reluctant to get on board, but we haven't found too many people who wished they hadn't bought a Kia after the purchase.
Hyundai Elantra: 
People tend to write off Hyundais because they seem like an "off-brand." That really isn't the case. They make a reliable car with great qualities. We'd say part of this reason is that you can get a brand new Hyundai for less than $10,000, so it would make sense that you can find a used one for less then $1,000.
 Along with the outstanding pricing, you'll also get superb gas mileage, cheap repair costs, and longevity. Hyundais are known to run for years! If you can get past the standardized style, we believe the Hyundai Elantra would make a great addition for you!
Honda: 
There are several types of Honda's that can be purchased for less than $1,000. The great thing about Hondas is regardless of the year, they can be relied on to get the job done. They are efficient, low maintenance, and they are easy and inexpensive to maintain. If you're not sure where to begin, try looking for early 2000's Civics and Accords. There are tons of them. This is good news for you and bad news for dealers. Since they last so long and they are inexpensive, dealers are often forced to hang onto them for years and years.
If you can find one, we would recommend a manual transmission. They cost a little less than automatics because they are less desires, but they are also easier on gas. Even if you don't know how to drive one, it's worth learning!
Volvo 240: 
What can we say about Volvos? They are prime Scandinavian engineering. This means they last forever, truly. However, you can find Volvos for cheaper for different reasons.  First, quite honestly, they are expensive to repair. Their lovely Nordic engineering is a blessing and a curse in this regard because most repair parts have to be imported. Second, it's a wide consensus that they go out of style quickly. However, that's actually why we love the 240. It's older, but it's clean, handsome, and it has style. It's classic.
Also, it gives you great gas mileage, so it's efficient even for it's time (late 80's-early 90's). The fact that it's such an older car makes it a strong possibility that you can find one for less than $1,000. If you need more room for the family, you can also find the 240 in a wagon or even upgrade to the 740 turbo wagon instead. 
Ford Crown Victoria: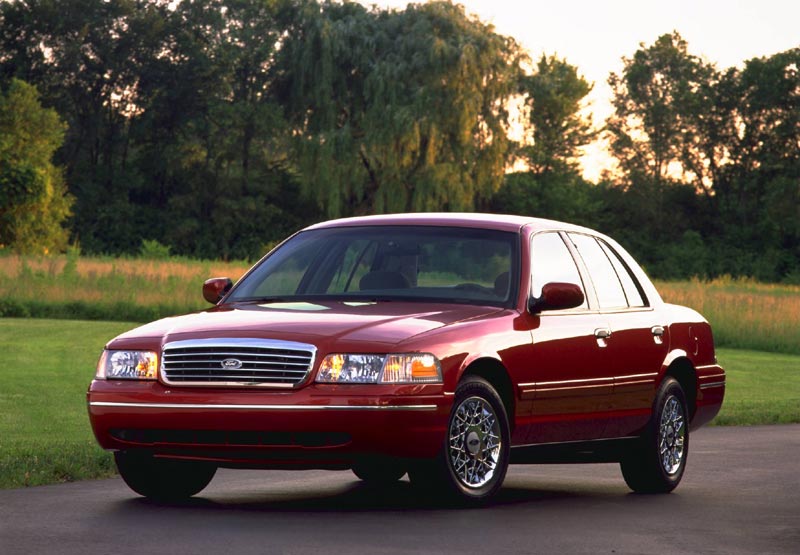 The Crown Victoria is an absolute beast. It was mainly manufactured for police forces. If you can get your hands on a police package, we'd definitely recommend it. It comes with a upgraded engine, so it will be powerful! And it wont likely overheat or have engine issues early in its life.
You are guaranteed to find one for under $1,000 because police forces are always retiring them, and they can be found at local police auctions with no sweat. A few downsides is that you wont find one with good gas mileage, unfortunately. The Crown Victorias rely mostly on power and performance than conserving gas and being efficient. Although, they are being phased out in recent years. If you're interested, you're guaranteed to find one for a good price!
Jeep Cherokee: 
This one really shouldn't come as much of a surprise. You can find them everywhere, literally. They are an over produced car that doesn't do well in reselling. No specific issue prompts this, it just so happens that you can get a newer model for pretty cheap, so there isn't much of a reason to get the later versions unless you're on a tight budget. These are good family cars. They are spacious, great for road trips, and they earned good safety ratings for their time. Try auctions or local listings, they are always available for a good price!
The only consistent issues we have come across is the air conditioning, we recommend you make sure it works well, or try to negotiate the price of a new one off the listing price. 
What to Look for on These Cars
You don't want to get stuck with a car that needs more in repairs than it's worth. It's important to give these vehicles a thorough inspection before you take it to the mechanic and especially before you buy it. There are pretty simple things you can check before you decide to bring it to a mechanic for a thorough check up. If there are any glaring issues in your initial walk-through, then it might save you an invoice at your mechanics. We have compiled a list of of things to look for when you check out your potential buy!
Tires: Listen, tires are expensive. They certainly aren't something you can put off if they are losing tread or bald. Also, they aren't a matter of opinion. If you are going to buy a car and you notice they have deteriorating tread, point them out, and then insist the owner takes the price of new tires off of the cost. Pro-tip: if you stick a quarter between the tread, the tread should cover about half of the quarter.
Rev up the engine: Put the engine under some pressure. Older cars tend to really show their colors if they are having issues, and you rev the engine up and really get the RPM's up there. Pro-tip: for added security, pull the emergency brake up so you don't accidentally take off into the garage!
Look under the car: On the ground. You want to look for leaks. Whether it's a transmission leak or an oil leak, it'll be a problem. You don't want to go down that road. You can always take the car to a mechanic to confirm what the issue is.
Take it for a drive: This will let you check and see how the alignment is. After you hit 25, let go of the wheel for a second. If the vehicle automatically veers to one side or the other, chances are the alignment is off. This is an easy fix, but it is still a cost that you can have deducted from the total cost.
Don't sweat the paperwork: We all have the urge to expect paperwork with every car we buy. By all means, ask for it. But if the buyer doesn't have it, don't walk away from the deal. By the time a car becomes a $1,000 car, it's not likely it will have all the necessary credentials. Leave it be, unless you're scared this car has been in a wreck.
Final Thoughts
It's risky, but if you're willing to take the risk, you can get your hands on a great, budget car for a great price. Our biggest piece of advice would be to trust your senses. If something doesn't feel right or look right, walk away from the deal. There are plenty of $1,000 cars you can find, and even though it's a low price, it's still not worth putting yourself in a position where you will lose money.
Like we said when we began this article, you're not going to find a premium car for this price, but you will find a car that likely excels in one area or another. Whether it be an old Camero that can give your garage a second life, or a classic, reliable Volvo to take fun road trips with. You can find something within your budget that will compliment your live and driving style.
Lastly, while you should look for issues and things that might most you more money in the future, it's important to also not be afraid to make the deal. Listen, you're not going to find a perfect car, if it's for $1,000 believe us, it will have its discrepancies in one form or another. But if they pass your inspection or your mechanics inspection, they are likely cosmetic issues that will just require some repairing, and that shouldn't be too much money. So take your time, have fun with it, and find something that works for you, and will work for you for at least five years. If you do that, we are confident you will be happy with your choice.
If you have any questions, comments, concerns, etc. on this topic, or if you'd like to share the story of how you bought or sold a car for under $1,000, please feel free to share below. We'd love to have a look, and we will respond as soon as we have the chance! In the mean time, we hope this has helped and happy hunting!