Whether you're a soccer mom or soccer coach, you're probably here because you need to haul big groups of people around – sometimes up to seven people – and you need a vehicle that can handle it. But it can be tough to find a car that suits your needs; it takes research. Well, you're in luck… We've done all the leg work for you!
Below is a list of some of the best 7 passenger vehicles in 2014. You'll find SUVs, minivans and crossovers, but all of them can seat up to seven people. We understand that has different tastes, so we tried to include a variety of cars. Likewise, everyone has a different budget, so we also covered a variety of price points.
Buying a car is a big decision, so we've tried to include as much information as possible. The idea is for you to have all the info you need to make an educated purchase. You'll be able to see the price, specs, gas mileage and our overall rating for each car on the list.
How do we calculate our ratings?
Our ratings represent the overall quality of the vehicle, and we take several different factors into account. They include the following:
Performance. This basically means how the car drives; it's based on driver reviews of the handling, braking and acceleration.
Consumer Reports ratings. We try to take many critics into account to get a more comprehensive view of the cars, but we look to Consumer Reports first.
Safety. We consider ratings from organizations that set the industry standards for safety ratings, such as the National Highway Traffic Safety Administration.
Comfort. This metric measure two things: the ride quality and the interior; it includes both the aesthetics and ergonomics of the design.
Reliability. Since these are newer vehicles, our reliability scores are mostly based on what we know of vehicle manufacturers.
After we have this data, we plug it into our rating calculator to come up with one easy-to-understand rating on a scale of 5. So, a score of 1.0 is the worst possible score, and a score of 5.0 would be perfect. Most vehicles land somewhere between 3.5 and 5.0, with very few vehicles ever achieving a perfect score.
Short note on prices…
When buying a vehicle, the price can vary based on the options you choose. Sometimes it can vary a lot. For the most part, the prices you see here represent the standard starting package and include automatic transmissions. However, many of them come in more expensive models. Just note that the price may go up if you start adding on bells and whistles.
Best 7 Passenger Vehicles of 2014
| | Vehicle | MSRP | MPG | Seats | Engine | Rating |
| --- | --- | --- | --- | --- | --- | --- |
| | Acura MDX | $42,290 | 18/27 | 7 | 5.6L V-8 | 4.6 |
| | Lexus LX 570 | $81,780 | 12/17 | 7 | 5.7L V-8 | 4.4 |
| | Dodge Grand Caravan | $19,995 | 17/25 | 7 | 3.6L V-6 | 4.2 |
| | Cadillac Escalade Hybrid | $70,570 | 20/23 | 8 | 6.0L V-8 | 4.1 |
| | Chevy Suburban | $46,300 | 15/21 | 9 | 5.3L V-8 | 4.6 |
| | Ford Expedition | $41,635 | 14/20 | 8 | 5.4L V-8 | 4.8 |
| | Nissan Armada | $37,240 | 13/19 | 8 | 5.6L V-8 | 4.1 |
| | Mitsubishi Outlander | $22,995 | 25/31 | 7 | 3.0L V-6 | 3.9 |
| | Chevy Express 2500 | $31,865 | 11/17 | 12 | 4.8L V8 | 4.4 |
| | Hyundai Sante Fe | $31,550 | 19/27 | 7 | 3.3L V-6 | 4.2 |
| | Mercedes-Benz GL-Class | $63,000 | 13/17 | 7 | 5.5L V-8 | 4.9 |
| | Cadillac Escalade | $83,070 | 13/18 | 7 | 6.2L V-8 | 4.7 |
| | Lincoln Naviagor | $58,850 | 13/18 | 7 | 5.4L V-8 | 4.2 |
| | GMC Acadia | $48,675 | 16/23 | 7 | 3.6L V-6 | 4.8 |
| | Buick Enclave | $48,315 | 16/22 | 7 | 3.6L V-6 | 4.0 |
| | Honda Odyssey | $44,450 | 19/28 | 8 | 3.5L V-6 | 4.5 |
| | Mazda CX-9 | $36,625 | 16/22 | 7 | 3.7L V-6 | 4.4 |
| | Ford E-350 Super Duty | $37,320 | 11/15 | 15 | 5.4L V-8 | 4.8 |
| | Nissan Pathfinder Hybrid | $44,350 | 25/27 | 7 | 2.5L I-4 | 3.9 |
| | Ford Transit Connect | $29,000 | 20/28 | 7 | 2.5L I-4 | 3.9 |
| | Chevrolet Tahoe | $59,360 | 15/21 | 7 | 5.3L V-8 | 4.7 |
| | Toyota Land Cruiser | $78,755 | 13/18 | 8 | 5.7L V-8 | 4.3 |
| | Infiniti QX80 | $65,650 | 14/20 | 7 | 5.6L V-8 | 4.8 |
| | Audi Q7 | $60,900 | 16/22 | 7 | 3.0L V-6 | 4.9 |
Now that we've seen a big selection of 7 passenger vehicles from lots of different manufacturers, let's diver a little deeper. Check out the following reviews. Of all the 7 passenger vehicles, these are some of our favorites. We think all of these are a great combination of quality, performance, safety and comfort.
There's a lot to like about the 2014 Audi Q7. Perhaps most noticeable, though, is its curb appeal. This is a very sexy car. It keeps the classic Audi lines we've come to expect from the brand, but it also certainly carves out its own identity as a more rugged 7 passenger vehicle.
Adding to the luxury feel, the interior incorporates leather, wood and suede. Really, the interior is just gorgeous – one of the best in class by far. It even stands up to some of the higher-end cars in this class (and at nearly half the price). Our only complaint with the design is the center console controls, which are slightly more complicated than we're used to from Audi.
The Q7 starts at around $60,000 – give or take a couple thousand depending on the model you choose. It gets a respectable 16mpg in the city and 22mpg on the highway, making good use of its 3.0L V-6 engine. It doesn't quite have the power of a truck, but you can still tow light loads without too much trouble. We also really love the Q7's all-wheel-drive drivetrain, making it exceptionally safe in rain and snow.
It seats seven people fairly comfortably, and the seats have a pretty versatile layout, which you can change depending on what you need.
However, keep in mind that this is a pure-bred luxury vehicle, so don't expect to take it mudding any time soon. On the road, though, it rides like a dream. It's smooth, quiet and comfortable. If you're looking for a full-size vehicle for large groups, this is one of your best bets. You don't have to sacrifice much in the way of performance or luxury, and you'll be spending a lot less than you would if you went with some of the other luxury manufacturers.
If you're looking something slightly smaller than the Q7, Audi's own Q5 is basically a smaller, more agile version of the Q7.
Hybrids can be hard to find in this class. Each manufacturer typically offers about one hybrid, and many of them are being purged (visa vie the Cadillac Escalade Hybrid). And, because this is such big class, many 7 passenger hybrids make sacrifices elsewhere.  Not so with the Pathfinder. Not only does the hybrid model retain most of its mid-range luxury, you'll hardly notice the minor dips in performance.
Nissan has had some success with electric vehicles, and it's (obviously) had success with gas-powered vehicles, but it's had quite a bit of trouble producing a quality gas-electric hybrid that people will buy. Their strategy? Make their new hybrid virtually identical to its gas-powered counterpart.
For the most part, they succeeded. The hybrid version of the Pathfinder is almost the same in every way. It looks the same and has the same features and options. The only performance sacrifice being made is a relatively minor 10 horsepower, which mostly goes unnoticed. For that price, you get loads more MPG. You'll see the most significant MPG increase in the city, as the Pathfinder now boasts 25 MPGs around town.
It costs a bit extra, of course, but not nearly as much as you'd think. For the hybrid, you'll be paying about $3,000 more than the standard version – compare that to the roughly $6,000 premium you'd pay for similar hybrids like the Toyota Highlander.
The interior is surprisingly luxurious for the price range, not beating out, say, Mercedes, but still offering lots of comfort.
Our only real gripe with the Pathfinder is the drivetrain. Nissan uses an dual-clutch to control its hybrid system, but the electric motor only takes over if the car is moving forward at a minimum speed. So, at low speeds, the gas motor turns on and off frequently. This wouldn't be that big of a deal if it didn't come with a noticeable lurch, which it does. Still, if you're looking for a hybrid that seats seven, this is a good bet.
There's not a whole lot of news here, but the E-350 Super Duty still makes our top list – if nothing else because it is one of your best options if you need to transport lots and lots of people. While the other cars on this list usually transport 7-9 people, the Super Duty can seat 15 people comfortably. It's basically a bus.
It also comes with one of two engine options: a 255-hp 5.4L V8 (paired with a 4-speed automatic transmission) or a 305-hp 6.8L V10. We're not sure what you'd need the V10 for; the V8 gives you plenty of power for whatever you'd need a large transport vehicle for. I mean, you're not going to be drag racing in this thing, right?
One of the major drawbacks to the Super Duty is that it's rear-wheel drive. While that's relatively common for vehicles this size, I always prefer front-wheel or all-wheel drivetrains when transporting heavy loads, since it can be pretty easy to lose control of your back end. So, if you don't need the space, you may be better off with one of the many quality smaller SUVs on this list.
There are quite a few options available for the E-350, however, including a trailer towing package, a back-up camera system and GPS functionality.
All in all, Ford hasn't changed much about the E-350. It's a functional van  that gives you tons and tons of space for the price.
Start at about $20,000, the 2014 Dodge Grand Caravan is one of the cheapest 7 passenger vehicles available. Long story short, no other vans or SUVs in this class come as well-equipped as the Dodge Grand Caravan for the bargain-basement price tag.
Perhaps the most notable feature of this car is the ultra-easy foldable third-row seat. It tucks away in a jiffy, making it extremely easy to transform your van from a people mover into a cargo carrier. Although to fold away, the seats a slightly thinner (and thus less comfortable) than others in this class, the utility is probably worth it for most.
The Dodge Grand Caravan is also exceptionally good (if not the best) in one of the hallmark categories of all minivans: safety. Really, that's this vehicles biggest selling point. The Insurance Institute for Highway Safety named the Grand Caravan as one of its top safety picks, and they don't just hand those out to anyone. No matter which model you buy, each Grand Caravan comes with a stability control system and curtain air bags. In addition, you and opt for a back-up and blind-spot cameras as well as blue tooth functionality.
One of the drawbacks, however, is the ride quality. The ride isn't atrocious, but it's very easy to feel like the princess and the pea on long trips, during which you might want to take a nap.
Additionally, Dodge clearly does not intend for this to be a luxury vehicle, and it shows. The base package comes with a cloth and plastic interior, and the plastic tends to feel cheap. Still, for the price tag, the Dodge Grand Caravan is a very good utility vehicle.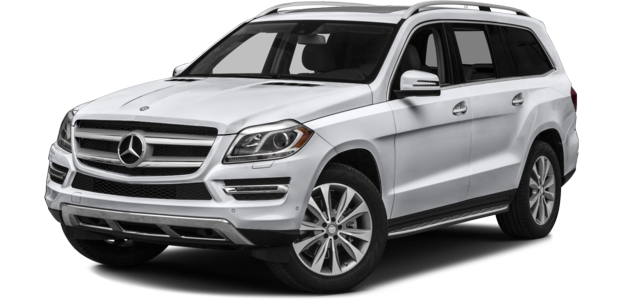 The price on the Mercedes Benz GL-Class can be a bit deceiving. It only starts at $63,000. However, you can literally double the price through options; the line tops out at an MSRP of $118,000. That's not cheap. However, it's a Mercedes, and if you're going to buy one, you probably don't want a cheap car, anyway. So what do you get for such a hefty investment? Well…
You get a turbocharged V8 (or turbo-diesel V6) monster with an adjustable air suspension system and 4-wheel drivetrain that pretty much makes you feel like you're driving down the highway on a magic carpet – all while carrying seven people, who all have enough room to take a nap.
One of the cooler things about this car is the design. It's almost got a Range Rover feel; despite its extreme luxury, the GL-Class still manages to look rugged. Among ultra-luxury vehicles, this makes the GL-Class something of an oxymoron – but in the most stylish way possible.
As we all know, much of what you pay for in a luxury car nowadays is the tech that comes with it, and the GL-Class is no different. This year, Mercedes included its Mbrace connectivity suite and its COMAND operating system, which allows you to surf the net from the driver's seat. Of course, blue tooth is standard, as are third row seats and a sunroof.
Ironically, one of the most expensive options – the COMAND operating system – is one of the few cons in a long list of pros. It's just a pain to learn and navigate, and in 2014, that's not okay. If you're going to pay that much for technology, it should be easy to use. A few of our other minor gripes are that it's not that great off-road (although it's a fantastic all-weather vehicle), and the gas-only version gets less-than-optimal miles to the gallon.
Still, if you've got the cash flow to throw at it, the GL-Class remains of the best luxury options in its class.