We get it, you're on a budget. You would prefer not to spend the next several years paying off a car. Who would, right?! The purpose of this review is to bring you the best possible choices for cars under $10,000. However, before we proceed, we may need to make a few tiny sacrifices to get a car for under $10k. Most importantly, though, we need to come to terms with the fact that we're probably not going to get a new car for that price. It's just not in the cards. If our budget is $10,000, we're going to be shopping for pre-owned vehicles.
But that's okay! The 2000-2010 was an awesome decade for vehicles. This means you have some really excellent choices for cars under $10k. If you know where to look, you can find new looking models, with great features, for a very reasonable price. We have attempted to cover all the types of cars, while still providing you a premium choice for a vehicle.
2005 Volvo S60
Stylish: Volvo has a history of making an incredibly stylish vehicle, and the S60 is no exception. This attractive slice of European luxury is spacious and sporty, while still maintaining its class.
Sporty: The S60 offers up to a 300-hp version. This clearly signifies that even though the Volvo has a history of putting emphasis on safety and class, the S60 can still offer perks for those who are wanting a fun, sporty vehicle.
Safe: It's really no secret that Volvo creates a particularly safe vehicle. However, the 2005 model takes an extra step by including a blind spot information system that can warn drivers of other vehicles in close proximity they wouldn't otherwise see.
Volvo has always made a well-rounded vehicle. This is perfectly illustrated with the S60. For being a 2005 model priced at less than 10k, this car comes with an excellent variety of features. Along with the blind spot information system, the S60 also added water repellent glass on the door mirrors and windows to prevent rainwater from hindering the driver's visibility.
Additionally, the S60 offers a variety of different versions of engines: a 168-horsepower, 2.4-liter five-cylinder, a 208-horsepower 2.5-liter five-cylinder and a 2.3-liter that generates 247 horses in the T5 edition. Also, as we noted before, a high-performance version – the S60R – offers a 300-hp, 2.5-liter in-line five-cylinder engine. We believe this selection will fit the needs of anybody seeking a Volvo S60. Even if you feel the need to go for the higher performance versions, you will still benefit from the safety features. It must be noted, however, our under 10k price is for the S60 sedan, the more sporty S60R will likely cost more.
The S60 will provide you with balanced car. The S60 is supremely comfortable both in ride and in seating. They accomplish this by providing premium luxury features and fantastic handling features. The only downfalls we have come across is the lack of rear legroom and overly expensive optional equipment.
2007 Chevrolet Silverado 1500
 Tough and durable: The '07 1500 comes with a new chassis that is three inches wider in front and one inch wider in the rear for improved stability. Additionally, this model was equip with a wider and taller grill, to add a fuller look. The 1500 also comes with either rear-wheel or four-wheel drive.
Powerful: The '07 model offers a variety of different engines, most notably: 5.3-liter (315 horsepower) V-8s and a 367-horsepower 6.0-liter V-8. 1500 offers a heavy-duty towing package for maximum towing capacity, as well.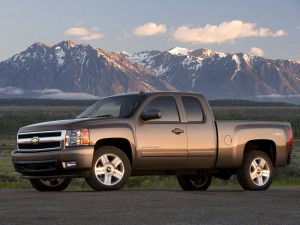 We wanted to include a vehicle for the working person. This is an excellent, sturdy vehicle for that purpose. The Silverado 1500 can tow up to 10,500 pounds. Along with the towing power, this truck comes with three cab styles: regular, extended, and crew cab, as with three cargo box lengths: 5'8″, 6'6″, and 8′. The only noticeable downfall of the 2007 Silverado 1500 is the four-speed transmission. We believe this hinders performance.
The 2007 is a completely different build from previous 1500's. There have been improvements in the towing capacity, build quality, and also cosmetics. This was a much needed jolt for the Silverado 1500. For years the Silverado took heat for having a mediocre build, an abundance of hard plastics, poor assembly, etc. It would seem, however, the 2007 model took all the poor reviews into consideration at once. The 2007 Silverado is surprisingly luxurious and sports a premium look while complementing the high powered workhorse under the hood. Overall, we believe the 2007 Chevy Silverado 1500 is a major upgrade from previous years and one of the best trucks available for under 10k.
2004 Honda Element
Spacious: The Element is extremely spacious. When the original commercials came out, they billed it as a mini RV. That isn't far off. The seats can be removed to maximize space if you are hauling. However, the Element has a max seating of only four.
Efficient: For an SUV, the Element can get great MPG, as much as 21mpg in the city and 27mpg highway.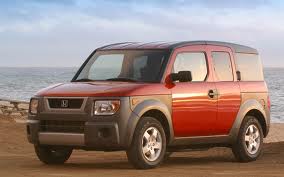 The Element is a fun, well-balanced vehicle.The Element comes with the all-wheel drive, which makes it terrific to drive in snow, sand, poor weather, etc. That being said, the floors are easy to clean. This is a plus for those who will take advantage of its capability to be an outdoorsy vehicle.
Also, the Element comes with a ton of additional features if you chose. For starters, for those who love the outdoors, the Element had features that will make your outdoor experience much more enjoyable such as: the  fog lamps and "Element curtains." Also, if you are wanting to add style, the Element also comes with the option for a rear spoiler.
One of the main concerns we have heard about the Element is the plastic side panels. They do tend to scratch easily, however, this would also depend on what you are doing with the vehicle. Also, the design of the doors make entry/exit tough for rear-seat passengers. Aside from the entry, the rest of the interior is incredibly resourceful.
Overall, we think this vehicle would be fun for just about anybody. The general layout of the Element allows for it to meet most needs. Additionally, the crash test for the Elements are impressive. The Element received five-stars for driver, passenger, and side impact front, while receiving four-stars for side impact rear.
2004 Honda Odyssey
Safe: Being this is a family vehicle, Honda has certainly put emphasis on safety. The Odyssey has tested off the charts on crash tests. Enough said.
Spacious: "Duh, it's a van." Well, even in terms of a van, the Odyssey is incredible spacious as it has a fold-flat third-row seat.
Tons of options: In addition to the less standard options, such as navigation and entertainment system, which we will get to in a moment, the Odyssey also comes with a ton of additional options. This includes but isn't limited to: dual manual sliding doors, traction control, anti-lock brakes, an eight-way power driving seat, among many others.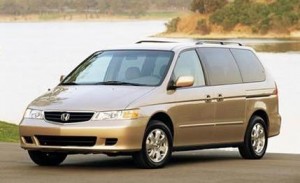 Honda sets the Odyssey apart from other vans. This is a new age family van. Why would we consider this a new age family van? The Odyssey comes with all the bells and whistles including: a navigation, keyless remote entry, and entertainment center, if you step it up to the EX version, to keep the kids entertained on daily errands and long trips.
The Odyssey isn't just for the kids. You will love driving it. The four-wheel independent suspension will keep you in sync with the road. The wide track gives the Odyssey a stable feel. Also, the Odyssey is surprisingly quick e.g., the Odyssey can go from 0-to-60 mph in less than 8/0 seconds. Additionally, for a minivan, the Odyssey is efficient with 18 mpg in the city and 25 mpg on the highway.
 2004 Ford Mustang GT
Fun: There isn't much explanation needed here. The name speaks for itself and has for decades now.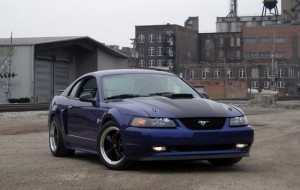 We wouldn't say we saved the best for last, but we definitely saved the funnest. Unfortunately, there wasn't a ton of additional features added to the 2004 Mustang. The model was completely revamped in 2005. However, being the Mustang debuted in 1964, the 2004 sports a commemorative 40th anniversary badge. Also, the 2004 has a 40th anniversary package that comes with cosmetic upgrade available.
There are a few things that are quintessentially Mustang. This would include speed and power. These are certainly not excluded with the 2004 Mustang. Even the standard version comes with a 190-horsepwer engine. If you do go with the GT, as this article is based on, you will get 260-horsepower. However, if you decide to bump yourself up to the Mach 1, you will find yourself handling 310 horsepower with 335 pound-feet of torque.
I know what you are thinking. If your significant other found out you brought one of these home without their consent, you may find yourself in the doghouse. However, a great selling point would be the safety rating. While the safety rating can only account for so much with all the horsepower this vehicle comes with, this car has still earned a five-star safety rating on frontal crash testing for driver and passenger.