Whether you're waiting for the cold to give out to vacation, or just wanting to get out for the summer, chances are you need to get a new 8 passenger minivan in which to pile the whole family. After all, there's you and your spouse, kids, dog, grandparents who dropped by "just because" – taking everyone on the road requires a lot of room.
Fortunately, car manufacturing has come a long way since the days of station wagons and round robins of "She'll Be Coming 'Round the Mountain" – 2014's 8 passenger minivans allow you to bring everyone in your family without cramming them into a woefully inadequate car, with more than enough room for all the clothes and gadgets you need to have a good time. These new vehicles provide you with incredible stability and comfort, not to mention enough amenities to ensure you never have to hear "Are we there yet?" After all, they'll be too busy listening to their iPods or watching Spongebob.
Whether you have a long commute, have to take the kids to and from school, or just like to carpool, it's an incredibly smart idea to get an 8 passenger minivan. This year's latest models look to give you more great choices than ever, but they're all so similar it can be hard to figure out which one to get. We anticipated that, though, and have put together  quick buyer's guide for you to help you pick the 8 passenger minivan that's perfect for you and your family. Check out some of the options we've come up with below!
2014 Toyota Sienna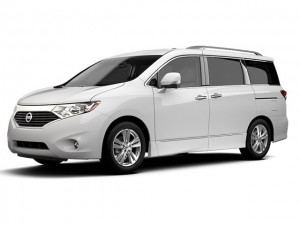 Pros: The 2014 Toyota Sienna is a gorgeous 8 passenger minivan; it's got a lovely set of sleek lines and curved heft to it without seeming blocky. The upturned smile on the grill is quite attractive, and the overall look of the minivan sells its purpose while also making it a bit sexy. The Sienna can also carry a lot due to its large size; it's more than 200 inches long and nearly 80 inches wide. The three rows of seats carry eight passengers quite easily, and you can even choose whether or not you want seats or a bench in the middle row, which offers a diverse set of options.
The Sienna handles incredibly well, and its 3.5-liter V6 engine with 266 horsepower carries its six speed automatic engine wherever you need to be. There's also fairly low gas mileage to it, and the electric power steering and independent suspension ensure a smooth ride for your family.
Cons: If there are any downsides, it's that the van is a bit expensive, starting out at about $26,000 and going up from there quite fast with the amenities. Furthermore, while the second row seats are nice, they cannot fold away completely, leaving them to be a major obstruction if you don't need them. Other than that, though, the Sienna is a great 8 passenger minivan that is just spacious and sexy enough to suit your needs.
2014 Dodge Grand Caravan
Pros: If you're looking for versatility in your 8 passenger minivan, look no further – the 2014 Dodge Grand Caravan is the best at switching from people-mover to stuff-handler. The Grand Caravan has the typical three rows of seats, but both second and third rows are able to be folded away and stowed; if you're not taking the family places, you can turn the entire back half of the minivan into a cargo van. Either fold them flat onto the floor or lock them into the storage bins below the floor, and you're good to go.
The Grand Caravan has got a great crash-test score, with the IIHS calling it a Top Safety Pick; stability control and airbags come standard, as well as blind spot monitors and gentle-closure power doors that will stop if they feel something blocking it. The 3.6-liter V6 engine with 283 horsepower allows the six-speed automatic transition and front-wheel drive to do all the work necessary for this 8 passenger minivan. What's more, at a starting price of about $20,000 it's relatively cheap for a brand-new model. For those drivers who need their kids to be entertained, the Blu-ray entertainment system is a possible added feature that will keep their children occupied during long road trips.
Cons: Again, there is little to complain about with the Grand Caravan; it's not as sexy as the Sienna, to be sure, but it's not a completely ugly vehicle. Its gas mileage is decent, but not revolutionary, and its handling is decent enough without being flashy.
2014 Honda Odyssey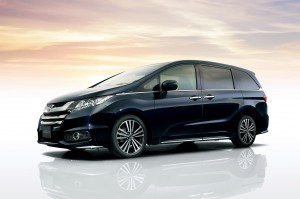 Pros: Honda has always been a fairly reliable company for budget and high-end vehicles, from sedans to SUVs; their 8 passenger minivans are no different. The 2014 Honda Odyssey is a surprisingly innovative and stylish entry in the minivan market that matches many sedans and SUVs for driving performance and features. First off, Honda gets one vital thing right – the interior. The design of the Odyssey's  seats and upholstery offers a bit of refinement, with active noise cancellation that makes the ride just that much quieter. You'll feel like a king driving in this van.
Under the hood, the Odyssey fares even better; the 3.5-liter V6 engine gets 248 horsepower, as well as 250 pound-feet of torque. This means you can count on a smooth, powerful drive that can carry a lot around in it. Its handling and gas mileage is sedan-worthy, which is no small miracle given the size and demands of this minivan. The second and third rows can seat up to eight due to the unique layout of the seats, and multiple child seats can be put in with six different tether locations. If you've got a few babies in tow, you'd be hard pressed to beat this minivan.
Cons: All of these amazing creature comforts and abilities do come with a price; it starts at nearly $29,000 and just goes up from there, so you won't be able to enjoy these features for cheap. Its size is rather large, even for a minivan, so make sure you have the space and requirements to back it up. Also, the front seats don't have nearly the support of the second and third rows, making for uncomfortable driving on longer trails.
2014 Chrysler Town & Country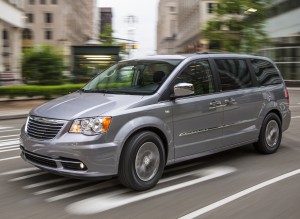 Pros: The 2014 Chrysler Town & Country is probably the most flexible, feature-laden 8 passenger minivan we've seen this year, if ever – the standard version comes with a staggering array of equipment and features, and the van comes with one of the best safety and visibility ratings in its class. Acting alongside the Dodge Grand Caravan, the two are roughly equivalent, and meant to complement each other. This means you will get a lot of the same features, like the rear-view camera, the Bluetooth setup and the Stow 'N Go seating arrangements. The latter option makes it especially flexible, as you can do quite a bit with that extra space, whether it's carrying the family or hauling supplies and equipment.
The Town & Country has a bit of a softer touch than the Grand Caravan in terms of appearance; it won't exactly turn heads, but it's a nice bit of style that elevates the minivan beyond the 'shoebox-with-wheels' aesthetic that has plagued the class for decades.
Cons: This 8 passenger minivan comes with probably the highest price tag of all – starting at nearly $31,000, you will have to be sure that this is the one you want before investing in it. The ride is also a bit bumpier than usual, so keep that in mind as you haul sensitive children and materials from place to place. There's also no option for all wheel drive, which can make some rougher terrain hard to get through and diminishes the power of the minivan.
2014 Nissan Quest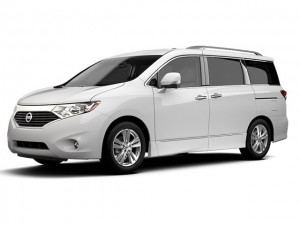 The Nissan Quest is possibly the biggest X factor on this list – it's got a lot of pros, but a lot of cons as well.
Pros: One of the biggest benefits of the 2014 Nissan Quest is the fact that it just handles so well. It's one of the smoothest rides you could expect out of an 8 passenger minivan, and that makes it just about perfect for long road trips. Despite its somewhat boxy appearance, it's got some clean lines to it that shakes up the look enough to make it attractive.
Cons: Despite the smoothness of the drive, you might be wary of its smaller size. It's a good deal less spacious than the other minivans mentioned, which means fewer people and things you can bring with you. The highway fuel economy is not as great as the other models, and its safety ratings also leave you wanting compared to the exemplary work of the Town & Country and Odyssey. One particular pet peeve is the audio system, which has a high learning curve and is confusing in its configuration – you will need a bit of time to figure out where everything is before popping in a CD for your kids to listen to.