A comparatively recent addition to the canon of affordable cars, the CUV has the best of both worlds. It's got the simplicity and drivability of a sedan, while also having the off-road capability and cargo capacity of a minivan and Jeep combined. SUVs are a fantastic all-purpose option for the person who needs to get up and drive into the city for work, but also wants to take the kids on vacation or go camping on the weekends.  It's the kind of car that says, "Sure, we can go downtown to eat at your favorite Thai place, then take you to the state park and get some rock-climbing in."
That being said, the options available for 4 cylinder SUVs are tough; there are so many that it's hard to tell which one is the perfect one for you. What's more, you've probably got some other concerns – you don't want one of those dreaded gas guzzlers, but you also want an SUV that will get you where you need to go, no matter what. With 4 cylinder SUVs, you get a little less power than the 6- or 8-cylinder counterparts, but they also tend to be more affordable and can still do what you need them to. You don't need a tremendous amount of power if you're not off-roading, so investing in one of these is smart. Here, we present to you some of the best 2014 model 4 cylinder SUVs on the market right now – they shouldn't break the bank, and they will give you the best all-around performance and gas mileage you could hope for.
2014 Jeep Patriot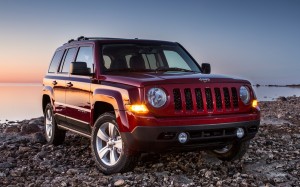 Pros: The 2014 Jeep Patriot is a very interesting entry in the 4 cylinder SUV market, and a very unconventional choice all around. The look is typical Jeep, with the standard wide-toothed grill we've all come to know and love – it's a bit boxy, but nonetheless effective and iconic. It handles extremely well on the road, especially in the tight turns of the city; it's a very good 4 cylinder SUV to take around town due to its maneuverability. Even better than that, it's got a sticker price of $16,000, which makes it incredibly affordable and an overall great option.
The variable drive systems allow you to shift from front wheel drive to the Freedom Drive I (which is an all wheel drive that has a locking center differential), permitting a lot of variation in your driving. The 2-liter 4 cylinder World Engine gives you 158 horsepower, with the option to upgrade to a six-speed automatic gear. The gas mileage is also pretty good at 30 mpg on the highway.
Cons: There are a few downsides to the cheaper price, namely the interior – it's pretty shoddy and unremarkable, which I guess is where you save your money. Also, with the four wheel drive, your gas mileage goes down to about 20 mpg, but that's only if you go through with it. Otherwise, this turns out to be a pretty good (if not great) 4 cylinder SUV for your money (especially for your money).
2014 Jeep Compass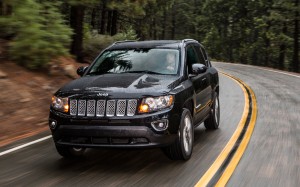 Pros: Jeep's a pretty good company to rely on for 4 cylinder SUVs and other such vehicles; they've got a lot of irons in the fire, so they're sure to put forth great product. With the 2014 Jeep Compass, the biggest advantage you have is the six-speed automatic transmission, which is much more refined and sophisticated than comparable models. As a result, you've got a great deal of maneuverability; it handles great, and should be able to go on any terrain you want. It's also incredibly affordable at about $18,595 starting out; while there are cheaper 4 cylinder SUVs, this is still a good deal.
Cons: In spite of the pros, there are quite a few cons that keep this from being the best 4 cylinder SUV out there. First of all, its gas mileage is somewhat poor; it gets 26 mpg in the city and 30 on the highway, and even dips down to 21 mpg with an automatic transmission. This is a common problem with Jeeps, but it's pronounced here. Also, there are some safety concerns; its safety ratings and equipment have not been dramatically improved, nor has their IIHS rating. This makes it a big question mark when it comes to making sure the Compass will protect you. On top of it all, there's not as much space to store your cargo as there is on other 4 cylinder SUVs, which is a real shame. All in all, this is still a decent SUV, but of the Jeep options, I would favor the Patriot.
2014 Nissan Juke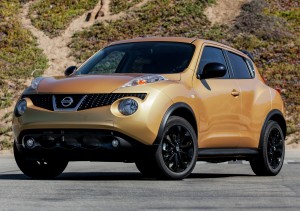 Pros: The 2014 Nissan Juke is certainly an odd duck – its exotic and strange appearance make it look like a drunk guy who's about to fall on his face, but its idiosyncracies give it a certain charm. Its differences are certainly its appeal, especially the cartoon-like design; it looks like Speed Buggy from certain angles. The 4 cylinder engine on this SUV is souped-up, with 188 horsepower and the option of front or all-wheel drives. It handles like a dream, as it's lightweight and you can turn rather rapidly. Its suspension is firm as well, which allows this 4 cylinder SUV to feel more like a sports car. All of these things combine to make it a weird little ride that definitely makes a statement when you drive it.
Cons: That being said, there's more to the Juke than a decidedly alien exterior and a powerful engine. The gas mileage is not great, maxing out at 32 mpg. The all-wheel drive, while appreciated, is not really good for traction, so it is difficult to take the Juke out on the trail. Its cargo area is really tiny, so it does not have the cargo carrying capacity you'd expect of an SUV (perhaps if the tiny butt of the Juke were improved upon, you'd have more room). With the firm suspension, the Juke also provides rather a bumpy ride, and it's far from quiet. All of this combines to make the Juke a decent, but flawed, 4 cylinder SUV.
2014 Mitsubishi Outlander Sport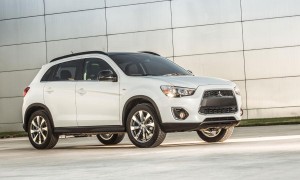 Pros: The 2014 Mitsubishi Outlander Sport is quite a surprise; for a 4 cylinder SUV, it's got quite the voice to her. The handling is absolutely stunning; the Outlander Sport is nimble and responds to your every move, allowing you to make quick turns easily and with great comfort. The gorgeous exterior screams class, without making it seem too much like bourgeois concept art (like the Juke). The dashboard is very simply laid out, allowing you to easily absorb information, which is helpful, and the interior is definitely very spacious, with a lot of room to maneuver. It's smaller than its bigger brother, the Outlander, but it lives up to its name by giving city folks a decent crossover that works in both urban and outdoor environments.
Cons: While the exterior of the Outlander Sport is very sexy, its interior leaves a lot to be desired. It feels a bit low-budget, with the hard plastic covering on everything. There are a few more comfortable surfaces, and the padded dash cover is welcome, but other than that it's a disappointment stepping into the SUV after seeing it from the outside. The CVT automatic transmission can take a while to get going when you use it, as well, which makes for a clumsy ride. The noise level is better than in previous models, but it's still a bit too loud to make it a relaxing drive. Despite that, however, the Outlander Sport is quite the impressive vehicle, and should definitely be considered if you're looking at a 4 cylinder SUV.
2014 Nissan Rogue Select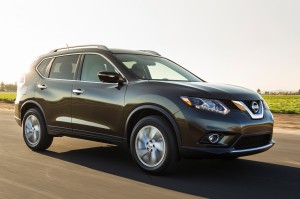 Pros: First off, the Nissan Rogue Select is just about one of the most gorgeous 4 cylinder SUVs you'll ever come across. There are LED running lamps (optional) to emphasize the sexy, sleek contours of the car, and the wheels are nice, large and imposing. The interior is equally sophisticated, providing a great deal of comfort for the amenity-conscious city-dweller. The 2.5-liter 4 cylinder engine for the SUV offers 170 horsepower and CVT, which is so elegant as to make you feel almost as if you're driving an automatic. The handling is delicate, but not fragile, enhancing the already-substantial comfort level you likely feel in the driver's seat.
Cons: There are only a few drawbacks to the Rogue Select, but they are worth noting. At 28mpg on the highway maximum, this is not a car you want to get if you care about getting the most out of your money on fuel. The brakes are also a bit sluggish as well, as it would be preferable to give them more 'oomph' when you first press on them. The steering and handling is, as previously mentioned, good, but there isn't a lot of excitement with the way it drives. However, that shouldn't stop you from checking this 4 cylinder SUV out.