If you're looking for 9 passenger vehicles, you basically have two options. You can either go with a full-size SUV, or you can go with a large van. However, there still aren't too many options available to you. If you want an SUV, you'll be able to choose between 2-3 models. That might be a problem if you don't want a van.
Additionally, if you decide to go with a van, you should be prepared for a vehicle that may be bigger than you need, since most vans that can transport nine or more passengers are typically built to carry 12 people or more.
So, if you've got nine people to carry around, expect to feel like you're in a bit of a limbo. Still, there's good news. While your options might be limited, the 9 passenger vehicles you can choose from have a couple of gems in their ranks.
A few of them might be really good depending on what you need. For example, if you have a large family of, say, seven people and you just want the option of carrying more, one of the SUVs listed may be a fantastic option. Or, if you are a coach or teacher or something, one of the vans could be a really good buy.
Anyway, we've put together a table of cars in this category and their basic specifications. Check it out:
| | Vehicle | MSRP | MPG | Seats | Engine | Rating |
| --- | --- | --- | --- | --- | --- | --- |
| | Chevy Suburban | $46,300 | 15/21 | 9 | 5.3L V-8 | 4.8 |
| | GMC Savana 2500 | $31,8685 | 11/17 | 12 | 4.8L V-8 | 4.7 |
| | Mercedes-Benz Sprinter | $40,015 | Not EPA rated | 12 | 2.1L I-4 | 5.0 |
| | GMC Savana 3500 | $34,160 | 11/17 | 12 | 4.8L V-8 | 4.3 |
| | Chevrolet Express 3500 | $34/160 | 11/17 | 12 | 4.8L V-8 | 4.4 |
| | Ford E-350 Super Duty | $33.560 | 11/15 | 12 | 5.4L V-8 | 4.8 |
| | GMC Yukon | $44,455 | 15/21 | 9 | 5.3L V-8 | 4.7 |
So, not quite as many options as you're probably used to, but the bigger you get, the less options you'll find. Still, some of those are really great 9 passenger vehicles. Here are the details on some of our favorites.
2014 Mercedes-Benz Sprinter
The Mercedez-Benz Sprinter is almost in a class of its own. It's no accident that many of the luxury car services use fleets of Sprinters. It can hold a lot of people, and it does it in style. The price tag may be a bit hard to swallow, but it's certainly not the most expensive in this category.
It's also every heavily styled, which can be a bit much for some buyers (although we kind of like it, and we think it's much more aesthetically pleasing than some of the vans on our list). Long story short, everyone's going to know you're driving a Mercedes. But it's not the sleek, low-profile Benz – it's a van. So, the style here is probably of the love-it-or-hate-it variety. In any case, wherever you go, you'll be noteworthy.
One of the highlights of this particular 9 passenger vehicle, though, is its engine. Whereas most of the cars on this list are powered by big V8s, the Sprinter is powered by a 2.1L inline diesel engine. But remember, size isn't everything, and this little engine has more than enough oomph to have seen itself "promoted" into many other luxury sedans over the years. Now, that's a significant downgrade from the bigger V6, but you also get a much more reliable engine. With less torque, the Sprinter feels a b it more sluggish off the line, but in this class, especially if you're not doing any towing, torque and horsepower may not be the most important selling points, anyway.
The verdict? The Sprinter is a fantastic, higher-end ride with lots of luxury and above-average reliability. The style makes it a great vehicle for businesses – or anyone else concerned with making a statement.
2014 GMC Yukon
The 2014 Yukon is one of the few SUVs big enough to carry nine people around. Now, if you've been looking at the Yukon, you may have seen it's only gotten above-average reviews. And, if you read our blog, you probably know we typically like to recommend only vehicles that get great reviews. So why are you recommending the Yukon here?
Basically, the Yukon has been losing points with critics for its two glaring flaws. However, overall, it's still a fantastic car with a great driving experience. That, plus the relative lack of choices in this category make it a good starting point. So what are the flaws?
First, the seating is going to be tight if you're carrying nine people. Really, it's only going to be tight for the people in the back. The seating in the first two rows is fantastic, but the third row is just a bit of a squeeze. Like we said, though, it's a very comfortable vehicle in the first two rows, making it an ideal choice if you're only occasionally going to be hauling around nine people.
Secondly, the Yukon's got a luxury price tag without necessarily having all the features of a luxury vehicle. This car is fairly comfortable, but really, you're paying for its size and towing capacity.
Wait! Don't leave! We're not trying to scare you away. Because the Yukon does have a lot going for it. For example, it's equipped with a stellar drivetrain and a very high-quality, spacious interior – both of these combine to create an exceptionally comfortable ride. So, even though it may not have all the luxury options of some other large SUVs, it's got more space, and it's very, very comfortable. In other words, it feels like a luxury vehicle, which we really love.
Additionally, the performance is really great. It does an excellent job towing extra loads around and an even better job hauling its own weight around. It's surprisingly nimble for an SUV of its size, and there's just a lot of power at your disposal.
Anyway, like we said, this is either a wonderful car or a mediocre car depending on what you need, so you definitely want to make sure you test drive before you make a decision.
2014 GMC Savana
GMC's 2014 Savana is a slightly more affordable version of Ford's Super Duty. We like this van for those who just need a container to get a bunch of people from Point A to Point B. And this van does the job without breaking the bank.
This year, the Savana is powered b y a 4.8L V8 that puts out 285 horsepower at 5,400 rpm. Not stellar, but more power than, say, the Sprinter. However, you can upgrade if you like; there's also a slightly more power V8 available, putting out 324 horsepower. It's got a rear-wheel drivetrain, making it someone unstable in wet or icy conditions. However, GMC does provide a few nice safety options, such as the 4-wheel anti-lock disc brakes, front air bags, side airbags (for passengers) and a built-in StabiliTrak system.
Additionally, if 12 seats aren't enough, there's a 15-seat option. However, if you do decide to go with 15 seats, it might be a good idea to get the upgraded engine, as you're adding significantly more weight, especially when you're driving at capacity.
All in all, this is a pure-bred utility vehicle build for one thing: transporting groups of people when it's not snowing or raining. It may not be the best choice for families, but it's certainly worth a nod for businesses who need a reliable vehicle to carry groups (think daycares, sports teams). As a tiny bonus, GMC is releasing a couple new colors this year, so, as classic as it is, white won't be your only option!
2014 Chevy Suburban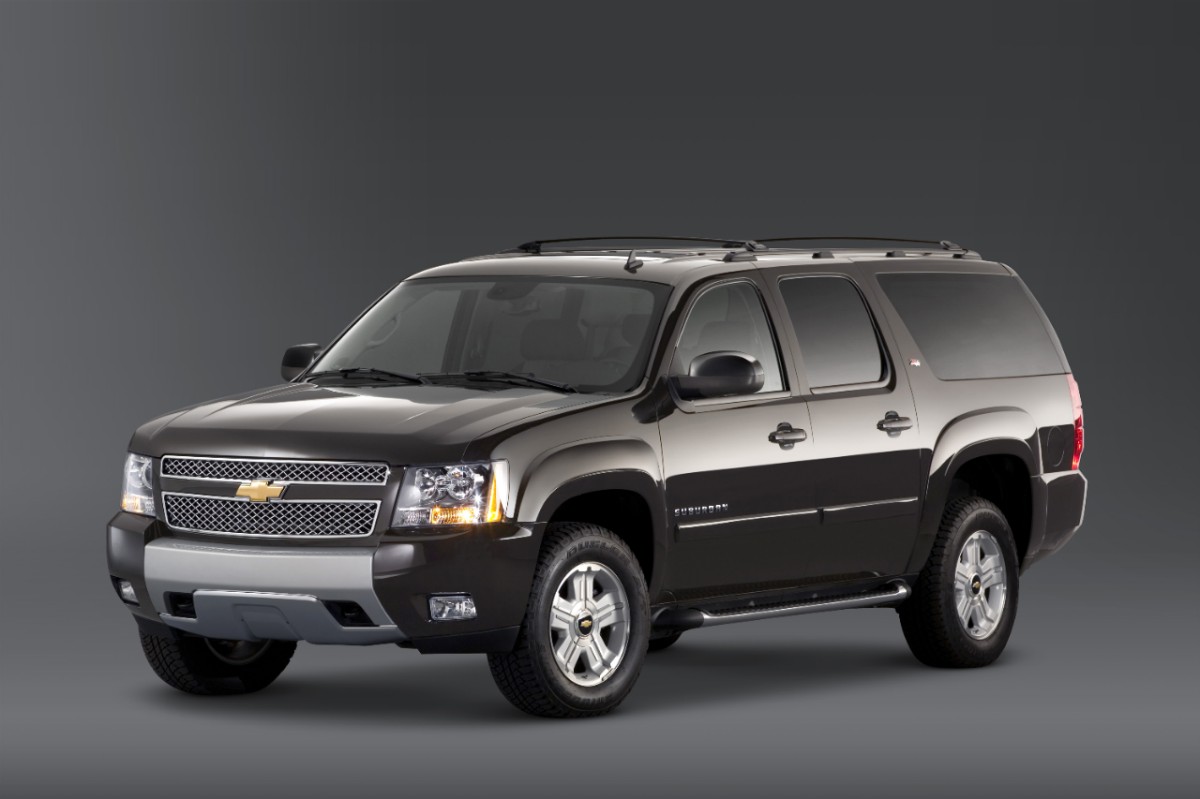 In some ways, the Suburban is similar to the Yukon: it's a massive SUV that provides lots of comfort and luxury for its primary passengers but skimps on the comfort in the third row. Still, it's a tough, rugged, good-looking SUV that can carry nine passengers if needed.
The 2014 is going to be the last for the Suburban in its current configuration, as the model is getting a significant overhaul in 2015. So, if you're a loyalist or collector, it could be cool to own the last in the line. However, if you're more interested in having lots of neat features and getting your hands on new technologies, you could easily wait a year for a few big-time upgrades. The other option, of course, is to wait until the new version comes out next year and buy the 2014, which could save you a nice chunk of change if you're willing to buy a car 1-year used.
In any case, there's a lot to like about the Suburban. This car is basically an extended Tahoe. And it's got plenty of power. The lighter 1500 version comes loaded with a 320-hp V8 and six-speed automatic transmission.
It's got a spacious cabin, although not quite as spacious as the Yukon. Still, it's by no means a tight fit, and really, we found it kind of cozy. Like most 8 passenger vehicles, handling isn't a priority, but comfort is, and the Suburban is no exception. It's not going to do well in a slalom, but it's plenty comfy for long road trips.
This would be a fantastic choice for medium-sized families who aren't carrying nine people every day. Just be careful with the options, which will tack lots of numbers onto the price tag in a hurry.