Hybrid SUV's are really gaining speed in the vehicle industry. They are making it possible to combine fuel economy, SUV powerhouse engines and the desire to be a little kinder to our planet.
There seems to be new hybrid vehicles popping up left and right these days, so we decided that we would put out two cents in and let you know what we thought are the best hybrid SUV's. Please take a look at our selections and let us know what you think.
GMC Yukon Hybrid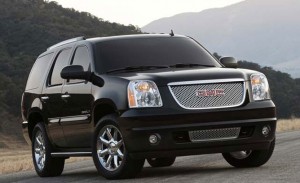 The GMC Yukon Hybrid is an earth friendly spin off of the standard Yukon. This awesome hybrid SUV has a flex fuel 5.3L engine with roaring v8 cylinders. The Yukon Hybrid is further powered by a 6 speed shiftable automatic and 320 horsepower at 5400 rpm's.
The Yukon Hybrid is a traditionally large and in charge SUV with a smooth powertrain. It also has a powerful rear wheel drive that helps to give it strong towing and hauling capabilities. The fuel economy is better with the version of the Yukon, but still leaves a bit to be desired. You can expect to get roughly 13 mpg's in the city and 18 mpg's.
This 4 door vehicle is able to accommodate 7 passengers in its comfortable cabin with solid quality cabin furnishings and convenient third row seating. The ride is made even more comfortable with the great bonus features of Bluetooth technology, heated seats, power adjustable pedals and a navigation system. The added rearview camera and parking sensors are a really nice touch to make both the driver and passenger feel at ease.
Chevrolet Tahoe Hybrid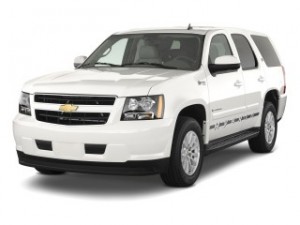 We love the Chevrolet Tahoe Hybrid and a lot of our love for it comes from its awesome hybrid 6.0L engine and V8 cylinders. The 4 speed automatic transmission with 332 horsepower at 5100 rpm's isn't too shabby either. We definitely like this version of the Tahoe a lot more than the original version.
The Tahoe Hybrid has pretty decent fuel economy with its achievement of roughly 20 mpg's in the city and 23 on the highway. The four wheel drive train is able to accomplish a lot to make your driving experience top of the line. The drive train gives the Tahoe pretty good towing capacity and makes it extra safe to drive.
The Chevrolet Tahoe Hybrid SUV is a great 4 door vehicle that comfortably accommodates 8 passengers with the help of its third row seating. The very comfortable interior will make any drive extremely enjoyable as will the extra features like Bluetooth, heated seats and a built in navigation system. On top of there being ample seating for passengers there is also loads of cargo room.
Saturn Vue Hybrid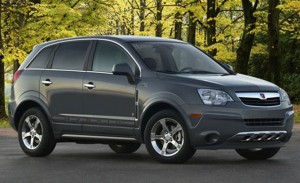 The Saturn Vue Hybrid is a rather unobtrusive, but totally great vehicle even with an engine that isn't as powerful as some of the other options on our list today. The Vue has a 2.4L engine with 4 inline cylinders that help to save when it comes to fuel economy. This is further aided by the 4 speed automatic transmission and 172 horsepower at 6500 rpm's.
As we've already mentioned, the fuel economy of the Saturn Vue is pretty awesome. You will likely be able to get 25 mpg's in the city and 32 mpg's on the highway. Sounds pretty nice doesn't it? The 17.7 inch all season alloy wheels and front wheel drive train provides a super nice drive as well as aiding in the 5 star crash test ratings that the Saturn Vue receives.
The Vue has the Best scores for IIHS ratings as well as many safety features that make this an enjoyable and very safe vehicle to own or be a passenger in. It is a 4 door SUV that is excellently designed for 5 passengers seating. Passengers will be very happy to hitch a ride in this vehicle with its very high quality interior design with top of the line materials used. There are also 8 bold paint colors to choose from that are fun and vibrant.
 Lexus RX 450h
The Lexus RX 450h is considered one of the top hybrid luxury crossover SUV's currently on the market and it is easily one of the best, period. The RX 450h has a rocking 3.5L engine with V6 cylinders to save it on gas and give it a good amount of power. There is also a powerful continuously variable speed automatic transmission and 295 horsepower at 6000 rpm's to fully round it out.
The Lexus RX 450h has very impressive fuel economy of 30 mpg's in the city and 28 mpg's on the highway. The all wheel drive train provides it with excellent utility, a very smooth ride as well as a quiet driving experience. The 18.75 inch alloy wheels make the drive even that much smoother and quiet.
This is a 4 door SUV with very comfortable rear seating that will easily accommodate 5 passengers. It is a vehicle that is total luxury from each detail on the outside as well as the inside. The very nice looking cabin with high quality seating materials and chrome exterior accents drive this point home. The Lexis RX 450h also has very generous standard features that include Bluetooth technology and heated seats just to name a few.
Toyota Highlander Hybrid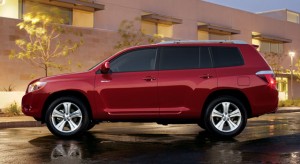 The Toyota Highlander Hybrid is a pretty awesome and one of our favorites to review. One of the reasons it is considered one of the best hybrid SUV's is due to the super charged 3.5L23 charged engine. This is a phenomenal engine with a whole lot of power which is further aided by the continuously variable speed automatic transmission, 280 horsepower at 5800 rpm's and V6 cylinders.
This Toyota Highlander Hybrid has unbeatable fuel economy and is able to get a whopping 27 mpg's in the city and 28 mpg's on the highway. The all wheel drive train is awesome and gives it great towing ability. The great crash test ratings and loads of special safety features certainly give the drivers and passengers of this vehicle some peace of mind.
There is a ton of passenger room in this great SUV and it is due in large part to the three row seating available. The luxury grade quality is evident right from the start in this 4 door vehicle. It is super luxurious inside and out. The awesome handling and special features like Bluetooth technology, heated seats and navigation system making it a winner for sure.