Everyone could use to save some money now and then, right? This is especially true when it comes time to buy a new vehicle. Today we are going to dive into the pool of the best SUV's for the best price.
Some of the SUV's that we found may be a shock to you because they look so much more expensive than they actually are. We hope you find this helpful and feel free to give us some feedback if you have any. Here are the best SUV's for the best price!
2014 Nissan Rogue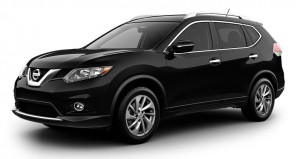 The 2014 Nissan Rogue is an awesome SUV with an awesome price tag. Not only is the price right but the Nissan Rogue packs a lot under its hood as well. It has a 2.5L engine with 4 inline cylinders to keep it running smoothly and efficiently. The 170 horsepower at 6000 rpm's gives the Nissan Rogue just the right amount of power to go along with the CVT automatic transmission.
The front wheel drive and advanced safety options make this 4 door SUV an excellent choice for a family that is looking for a vehicle with high crash test scores. The Nissan Rogue is not just safe though because it also has excellent fuel economy, which is awesome since this is one area that some SUV's are lacking in. It gets roughly 26 mpg's in the city and 33 mpg's on the highway. Not too shabby at all!
This Nissan Rogue has an upscale look and feel without the upscale price tag to match. This SUV has a ton of character and comes in a variety of nice colors to boot. It has the ability to comfortably seat 5 passengers with some models even having a third row seating option. The collapsible and comfortable rear seating is an excellently functional feature that will come in very handy when making more room for cargo when needed.
2014 Mazda CX-5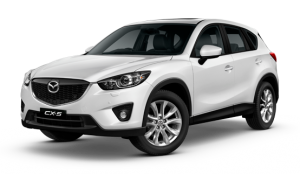 We've come to expect a lot out of Mazda's over the years and are pleasantly surprised with the 2014 Mazda CX-5. We are impressed by all that it has to offer as well as its affordable price tag. This SUV has a powerful 2.0L engine with 4 inline cylinders under its hood and 155 horsepower at 6000 rpms to bring it roaring to life. The 6 speed shiftable automatic transmission is another nice feature that ensures that you will always have a nice and smooth drive.
The engaging driving experience of the Mazda CX-5 is further aided by the safe front wheel drive train and the 17 inch alloy wheels. You can totally feel at ease when driving this vehicle because it has a collision warning and assist system that will notify you of possible dangers while driving. We are loving the fuel efficiency of the Mazda CX-5 and the fact that it gets 25 mpg's in the city and 32 mpg's on the highway too. Saving money on gas and on the purchase of this SUV sounds like a winning combination to us.
The Mazda CX-5 is an awesome 4 door SUV with sharp styling, features and functions that set it apart from other similar vehicles on the market. You can easily accommodate up to 5 passengers inside of the comfortable interior with lush cloth seats. There is plenty of leg room and room for cargo behind the seats as well as in the wayback.
2014 Subaru Forester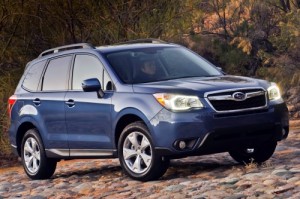 Another one of the best SUV's for the best price is the 2014 Subaru Forester, which is an often overlooked vehicle option. There is a stout turbocharged 2.5L engine that really has a lot of power on its own. The engine in the Forester is further aided by the 4 flat cylinders, the CVT transmission and given an extra boost by the 170 horsepower at 5800 rpm's.
As is expected of Subaru's in general there is very good fuel economy to make this an even more economical vehicle option. The Forester in particular gets an average of 24 mpg's in the city and 32 mpg's on the highway. We don't want to forget to mention that the all wheel drive train and 17.7 inch alloy wheels make this a perfect vehicle for off road driving.
The Subaru Forester has recently been redesigned and updated too. It now has a very refined appearance that is made even more appealing by the vibrant color selections that are available. This 4 door SUV has a great roomy interior and comfortably seats 5 passengers with excess room for cargo. The cozy cloth interior looks nice and is easy to keep clean too.
2014 Ford Escape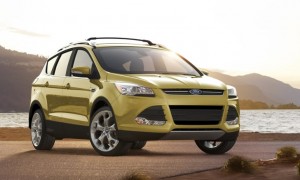 The 2014 Ford Escape is absolutely deserving of a place on our review of the best SUV's for the best price. It has a powerhouse 2.5L engine with 4 inline cylinders that work together with the 6 speed shiftable automatic transmission to give the Escape athletic driving dynamics. Providing even more power to the 2.5L engine is the 168 horsepower at 6000 rpm.
The Ford Escape is considered one of the top SUV's due in large part to its good performance and agile handling. The 17 inch alloy wheels and four wheel independent suspension surely help a lot as well. The great fuel economy is another reason that the Escape is on our list. It gets somewhere around 23 mpg's in the city and 32 mpg's on the highway.
This is a 4 door vehicle that is just as nice on the inside as it is on the outside. It has loads of high tech features that are very user friendly and functional. Add that with the cozy cabin with comfortable seating and loads of paint options to go along with the charcoal black cloth interior and you are good to go.
2014 Honda CR-V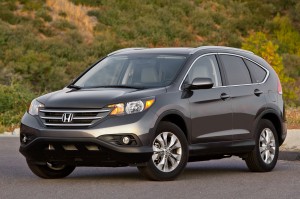 Last on our list of the best SUV's for the best price is the 2014 Honda CR-V, but don't let its spot on our review fool you because the CR-V is just as awesome as the other vehicles mentioned. It has a great 2.4L engine with 4 inline cylinders to provide you with a nice smooth ride. The 5 speed automatic transmission and 185 horsepower at 7000 rpm's give the engine a nice kick too.
Honda's in general are known for their fuel efficiency and the CR-V is no exception. The CR-V is able to achieve a great gas mileage of 22mpg's in the city and 30 mpg's on the highway. A great engine and stellar gas mileage isn't all that this vehicle has to offer though! It also has a great all wheel drive train that helps it to achieve awesomely strong crash test scores.
The Honda CR-V is a 4 door SUV with a roomy interior that can comfortably seat 5 passengers. There is also loads of cargo room on top of the abundant passenger space. There are many family friendly features as well as ample technical features. All of the features have user friendly control and make it a pleasurably driving experience whether you are the driver or passenger.