Are you moving a great distance from your current location that is too far to drive? Did you recently sell your car and need to ship it to the buyer? Well if so then you have certainly stopped by at the right time today because we are going to give you an easy how-to guide to shipping a vehicle.
Shipping a vehicle is not nearly as daunting of a task as it seems like it would be and can be completed in a several easy steps. We are sure you will be able to complete your task effortlessly once you read our guide and will be shipping your vehicle in no time. Ready…Set…Ship!
Research Vehicle Transport Methods and Companies
The very first thing that you are going to need to do when shipping your vehicle is going to be researching how you are going to ship your car and the potential companies that are going to do the shipping. For the most part cars are transported by large semi-trucks, trains or on large cargo ships. Which method you choose will depend largely on how great of a distance you need to move it, how large the vehicle is, which option is fastest and which is the least expensive.
Once you are able to decide the method that your car will be shipped you can dive head first into finding the right company for you. You can easily search for companies on the internet, but it is also a good idea to ask around for word of mouth if you know someone that has personal experience with this particular area. We suggest selecting a few companies at a time and doing some very thorough research. Read reviews if you can find them as well as really checking out their websites. It is a good idea to have your choices narrowed down to about 5 different companies before moving on to contacting the companies and obtaining a quote.
Contact the Companies and Ask Questions
This step really is as simple as it sounds. Make a list of all of the questions you may have about the process of shipping your vehicle, ask what is required of you and any other questions that you may have. That's it really. Now that you have all of your questions answered, get your quotes.
Get a Quote
After doing a good amount of research and thoroughly vetting your remaining choices, it is time to get some quotes for the job at hand. When asking for a quote it is definitely a good idea to have the company give you a breakdown of what exactly is included and what will be an extra expense added to the final bill. We would also ask for multiple bids with the various possible shipping options if at all possible as well. This is just one extra bit of help that will make your decision that much easier.
Once you have had a chance to sit down and take a hard look at the quotes you have received, you will be able to make an informed decision about which company and shipping method will best meet your needs. We know that it is easy to want to jump on the cheapest bid you see, but try to select an option that is more middle of the road to avoid any possible trouble that may come from going with the cheapest company.
Make a Plan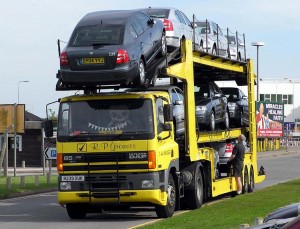 By now you have chosen a company to ship your car for you and now you need to work closely with them to make a detailed plan of how this will all go down. For starters you will need to be clear on how the car is going to be transported. Will it be by train, trailer or cargo boat? Once this is determined be sure that you prepare your car accordingly to make it as easy on yourself and the shipping company as possible. We will go into a bit of detail later with some tips on how you can prepare your car.
On the scheduled day of pick-up it is also advisable to ask the driver and/or the company if they are willing to communicate with you in transit so that you are always aware of where your car is. A lot of companies include this in their services as a courtesy to their customers. It usually only takes a quick call to the driver or company to receive a status check, which is very nice and will surely make you feel better about your vehicle being out of your custody. You will also want to make certain that the delivery date is firm so that you can arrange for someone to be at the drop-off location to receive it.
Check Local Regulations
Some states have certain requirements and regulations that will need to be met as soon as the vehicle crosses state lines. Some states require tests and inspections be performed to ensure that it is safe and meets at very least minimum requirements, whatever they may be. Gathering this information may actually be performed prior to the actual shipping of the car and it may actually make the whole process that much easier on you and the company.
The information on what the state requirements are can usually be found on the Department of Motor Vehicles website for the state in question. If the necessary information is not on the website you may need to call in and ask instead. Either way it should only take a short amount of time to find out what you need to do and you can get the necessary balls in motion from here.
Getting Your Vehicle Ready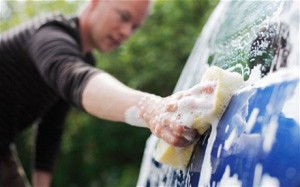 All of the hard work is over now and all you have to do is get your car ready for the ship date. There are a few things that we suggest that you do in order to ensure that your car returns to you in its original form as well as a tip or two that may make your out of pocket cost a little less. They are all easy, so don't stress about something else to add to your already full plate.
It is a good idea to wash your car before it is shipped so that you will be able to note any existing damage in case you see a new nick or scratch. You'll want to remove any personal items as well because there is a chance they may become damaged in transit. Definitely disable your car's alarm and remove any internal or external objects that may fall off or get broken. Lastly, make sure that you have an empty gas tank upon the departure of the vehicle. Gas weighs a lot and having too much may cost you a bit more, so go ahead and leave just enough to get yourself to a gas station as soon as the car is delivered.