Picking out a budget car can be a hassle; you worry about its history, its reliability, its performance and much more. After all, many cars are only selling for five grand for a reason. You might balk at these options, as there is the perception that they are usually populated by families trying to get rid of junkers that their college-bound kid won't want anymore and other such arbitrary distinctions. You're a bargain-hunter, and that's good – there are plenty of great cars out there that you can get for cheap and will still get you from Point A to Point B in a reasonably comfortable fashion. Heck, you may even be able to find a fantastic car that's a steal at $5000!
However, in order to find these diamonds in the rough,  it takes quite a bit of gumption and more than a little research. Looking for the best cars under $5000 can be tricky; you're going to mostly be looking at used cars unless you're very  lucky, and you'll want to look at more budget-conscious makes like Hyundai and Ford, obviously. You need to look much harder at the car's performance history, going to places like Carfax in order to get the kind of information you need to make an informed decision. These cars have seen a lot of miles, but that doesn't mean that they can't last you for years, if not decades, to come, if you treat it right.
Since finding cars under $5000 is such a huge undertaking, we thought we'd do some of the legwork for you and find the best budget options for you. If you're willing to look around in your area, ask lots of questions at your local dealers, and learn, you'll be able to get something great for cheap in any one of these models and years!
2004 Subaru WRX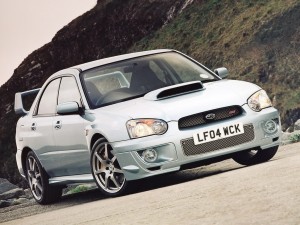 With the 2004 Subaru Impreza WRX, you might worry about the car's ability to be reliable; after all, any car is going to show some wear after 60,000 miles or so. That being said, you'd have to look hard to find a better pick for good cars under $5000; it's got a 2.0-liter turbocharged engine with approximately 227 horsepower, making it a powerful car no matter its mileage. It's got all-wheel drive and manual transmission as well, making it a good choice for more adventurous drivers who want a bit more autonomy and control in their driving experience. This car (the WRX) is typically used for rally racing all over Europe and Japan, due to its incredible handling and stability; while you might not be getting into any underground races anytime soon, it's nice to know it's got that level of ability to it.
One of the biggest selling points for this car, especially for the budget-conscious, is the fact that it gets an admirable 27 mpg when on the highway. While it won't beat the gas mileage of more recent cars, that's still quite impressive given its age. The car's also got a decent bit of style that holds up very well, and won't show its years very easily. It looks quite outdoorsy, but not in an ugly way; its sleek lines give it a rugged look that is really easy on the eyes. Given these features, it would be tough to turn it down.
2004 Ford Focus SVT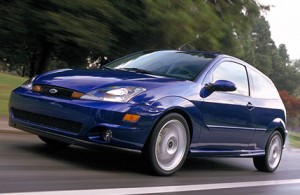 Chances are, if you're only looking for cars under $5000, you just want to be able to find a practical automobile solution, with the added bonus of a fun, stylish ride if possible. Luckily, the 2004 Ford Focus SVT is just what you're looking for; the 2002 to 2004 models all easily fit within that price range. Also, it was at this time that they introduced the New Edge design aesthetic, which offered nice, clean and stylish lines without making it look too futuristic (which might, admittedly, date many of those models in the future). The car's look is full of sharp creases and luxurious curves, offering a fairly stylish look without sacrificing practicality.
The Focus has a six-speed manual transmission that's a breeze to shift, as well as a 2.0-liter Zetec 4-cylinder engine, with 170 horsepower. While this doesn't give it a tremendous amount of power, it's more than enough to get the job done, and makes the Focus such a nice, light ride. The Focus has got a wonderfully solid suspension system crafted by their Special Vehicle Team, allowing you to take this baby down back roads with no problem (while still making for a smooth ride down city roads and highways). With the Focus, you won't be disappointed – just be sure to look for the right model with the proper history.
BONUS NOTE: Try to avoid the ones with after-market factory additions, like lower suspensions and bigger wheels, as they make your car less driveable and throw the factory-level condition of the car into question.
2003 Subaru Outback SUS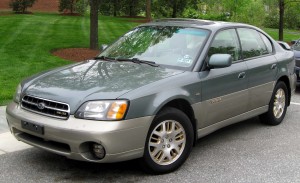 Subaru is known for its station wagons, but the Outback SUS (or Sports Utility Sedan) is an interesting variant that came and went in North America from about 1998-2003. While the Legacy Outback wagons were around for much longer, the SUS is much better than the original legacy, despite not being a wagon. After all, the wagons were plagued with problems from the outset, like the all wheel drive systems that were too complicated to work correctly, among other shortcomings.
While the SUS has its fair share of shortcomings, you will definitely benefit from its sense of style and utility. The SUS has nice, rounded design cues, making it less flashy and more adorable by nature; you won't want to take it out to prove something, but you might have a little fun with it while you have it.
With the SUS, you'll get an unconventional little vehicle that still gives you the benefit of having something rare. Scarcity is always a plus, even in this market; capitalize on it when you can.  After all, it'll make a nice conversation piece at your next party, as you'll have something few others possess – a forgotten gem that was forgotten by time, but is due for a resurgence.
Volvo 790 or 940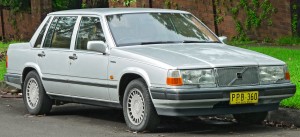 When you're looking for reliable cars under $5000, you could do much worse than an earlier-model Volvo. Volvos manage to find that delicate balance between style and substance that is the Holy Grail of the budget-conscious. While there are little to no frills to the 740 or 940, there's a secret genius behind this car that makes it worth the low price tag. To start off, this car can take a lot of punishment; you will never burst the running gear, making it quite reliable. These models age particularly well also, as Volvos are known for their incredibly rust-resistant bodies.
Usually, 740s/940s come with turbocharged engines, so you will get more gas mileage and engine power out of these models than you will others. Aftermarket upgrades are encouraged here, as there is a huge enthusiast base out there who can help you with whatever you need. When it comes to finding cars under $5000, you do want to figure out what used cars have the benefit of the consumer and car nut community; they'll help you long after the factory warranty runs out.
You can go a lot earlier in model date than the previous examples and still come out on top; Volvos from 1992 and on offer great benefits, like the Side Impact Protection System that guards you from any unfortunate accidents. You might even be able to find one of these puppies for a little over $2000, giving you plenty left to maintain or upgrade it as needed.
1999 Honda Civic Si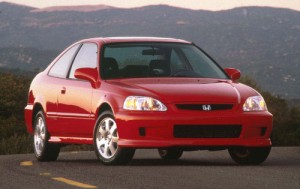 Honda's always a good go-to option for affordable cars; the Civic has been synonymous with "cheap car" for decades now, but that's not an insult. Year after year, the Civic has become a reliable standard by which to compare all other budget cars, being intensely reliable with just enough style to fool you into thinking you've got a fancy automobile. The Civic is a fantastic compact with a long life span, so you don't have to worry about that 100,000-mile model you're picking up breaking down on you anytime soon (with the proper maintenance, of course).
The 1999 Honda Civic Si coupe, in particular, is a shining example of the longevity of this particular model. Its 16-vale, 160 horsepower VTEC engine is surprisingly powerful inside such a small car, and the low weight helps make it a fantastically smooth drive (in addition to its powerful and stable handling). The car can get up to 8,000 rpm, and its manual five-speed  gearbox is to die for; you'll absolutely love driving the Civic. That is, of course, if you can get your hands on one – the Si in particular is remarkably hard to find, but if you can find it, it's probably one of the best cars under $5000 you can possibly get.