Today we are going to talk about something fun and different from our usual reviews and guides. We figured it would be fun to shake it up a bit and talk about the best model car kits.
These are super fun to assemble and some of them are even RC cars so you can drive them around for kicks once you are done. Ok, enough of us gabbering about how fun they are already! Let's get to the fun part and start telling you about these awesome and best model car kits!
Tamiya RC Toyota Land Cruiser 40-CR01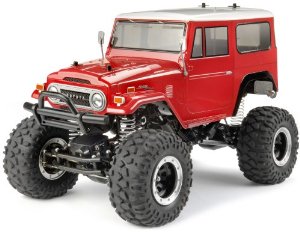 The Toyota Land Cruiser model kit from Tamiya is awesomely challenging but fun build. It is a 1/10th scale car that is not only a super cool model car that can sit on your shelf and collect compliments; it is also a fully drivable RC car as well. It has all of the electrical and mechanical components you need to get it up and running with the exception of the required 8 AA batteries that are not included. It does however have a 6 cell flat battery pack ready for those AA's when you are finished building the Toyota Land Cruiser.
The body of the Toyota Land Cruiser is true to scale with high quality material and parts making it look totally realistic. The kit includes heavy duty ladder frame and a planetary gearbox that includes 540 type motor full ball bearings. The 3 piece beadlock wheels with massive crawler tires work perfectly with the 4 link coil suspension that will show you what it can do when you drive it.
The clear body can be painted any color you desire too and allows for total personalization of the car itself. This isn't a kit for impatient car kit hobbyist as it takes a lot of time and care to build it properly, but the end result is totally worth the time and effort. It is recommended for people 13 years and older, but would totally be a fun project to do with a younger builder with complete guidance.
Dragon Models Back to the Future Delorean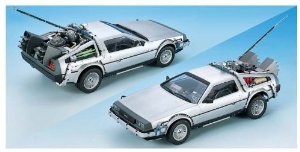 We aren't even going to pretend that the Dragon Models Back to the Future Delorean model car kit isn't our favorite. If you were a child in the 80's then you will likely agree with us. This kit is an incredibly detailed reproduction of the original vehicle and is officially licensed from Universal to ensure that all the details are authentic. This is a model car kit that even Doc Brown would be proud of. Since it is based off of the Back to the Future Trilogy it only makes sense that there are three available models based off of each of the films.
Each 1/24th scale model kit is great for builders 15 and older because there is a lot of fine detail that goes into putting these awesome cars together. There are photo etched parts as well as parts custom to each film that lend a tremendous amount of detail and authenticity. We are nerding out big time with this kit and get help but hear the voice of Doc Brown saying "where we are going there are no roads" in our heads while we build the Delorean.
Moebuis Models 1952 Hudson Hornet Convertible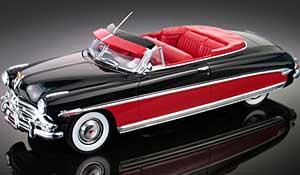 Taking it back to the old school vehicles that are endlessly classic is the Moebuis Models 1952 Hudson Hornet Convertible. This is a 1/25th scale plastic model kit with parts mounted on sprues. You will need some extra tools as well as glue and paint to get started. This kit requires precision assembly and painting, so it is best suited for builders ages 13 and up.
This model car kit comes with great instructions that are very needed because a ton of detail that will go into the construction and painting of the 1952 Hudson Hornet Convertible. To help you through the building process Moebuis has included many colorful pictures of the Hudson that was professionally painted and constructed to help give you a reference guide. When the time comes to paint your model there is a super helpful color code that Ditzler used in 1952 on the real Hornet Convertaible.
Nine States BMW Z4 GT3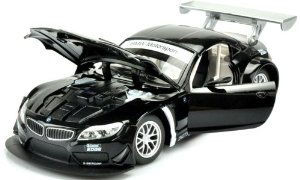 The Nine States BMW Z4 GT3 model car set is another really awesome choice and one of the best for sure. It is a high quality kit with tons of detail and is even authorized by BMW for extra authenticity. This fine die-cast car can be used for play as well as a fine collectible model once it is fully built. It is a pretty easy kit to build and is perfect for little hobby enthusiast from ages 6 and up. Even the paint and glue are non-toxic to ensure the safety of the littlest builders.
All of the sets are designed to look and function exactly like their life size counterparts with intricate details all over the metal body of the car. There is real lighting and pull back motor with authentic sound, real opening doors and even the seats and tires have a realistic look. This is absolutely one of the best model car kits and it will be easy to see why once you get your hands on one.
Tamiya Lunch Box Kit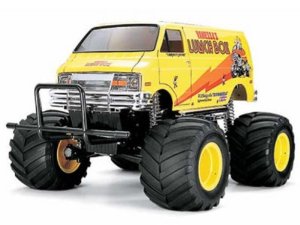 The Tamiya Lunch Box monster truck model kit is really fun to build and even more fun to play with because it is a rocking RC truck too. This kit is a bit more complicated than a few of our other models that we have reviewed, but that doesn't make it any less fun. You will need a few things to get started as well as get it running once the construction is complete. You will need the required paint and tools as well as the radio, battery and charger needed to operate the Lunch Box are not included and will need to be purchased separately. It is the ideal project for builders 13 and up because of all the detail that goes into it.
The Lunch Box is a 1/12 scale RC truck with metal plated bumpers, griller, side guards and monster tires that are 115mm in diameter and 71mm wide. It includes 540 motor and 101BK ESC that is fitted with a swing axle independent and rear rolling rigid type suspension. It is easy to see how much fun it will be to play with once it is all put together, isn't it?