SUVs have that perfect give and take between urban and outdoorsy; the best off road SUVs can also function well in the city. Most SUV drivers in the city don't really need them, except for particularly large grocery hauls or upgrading their HDTV every couple years. However, for those with the call of the outdoors, the best off road SUV can offer a sense of adventure they might never have anticipated. It's a great thrill taking your SUV around rocky trails and plains, splashing through shallow rivers or heading through harsh, rocky terrain.
The best off road SUVs are built a little heartier than your average SUV (which is essentially a glorified minivan in the city). The tires stand up to a lot more punishment, it's typically higher up off the ground, and generally has a more rugged countenance about it. When shopping for SUVs, it's a good idea to take a look at which ones are intended to actually stand up to that added punishment. After all, you're not just taking the kids for soccer practice; you're ready to conquer nature with all the resolve of a steel falcon.
Since it's somewhat difficult to tell a regular SUV from the best off road SUV, we took the liberty of figuring out some of the best new choices for you. You will be just fine with any of these picks, but we break down the specific appeals of each one so you can make a more informed decision. These 2014 models should serve you well the next time you want to brave Mother Nature and go off-roading.
2014 Nissan Xterra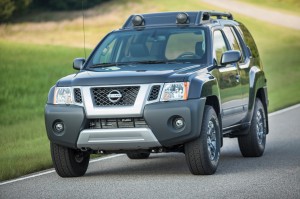 Pros: The Xterra (which I guess means X-Earth?) is one of Nissan's most powerful and best off road SUVs, and it's fairly no-frills. It gets the job done without any muss or fuss. This extends to the Xterra's high-quality powertrain, which offers a smooth and comfortable ride that still takes all the punishment you can dish out. While it's not built for fashion, there's something about the Xterra's strange blend of simplicity and ruggedness that is charming. The Xterra is perfect for trails, its tires and strong suspension digging through the roughest terrain put in front of it.
The car's interior is just as utilitarian as its exterior; there are tie-downs for all your gear, the surfaces are simple to clean, and there are all kinds of nooks and crannies where you can store extra supplies. The Xterra was made for survivalists, and it shows. The double glovebox and center console let you store even more stuff in there.
Cons: While the Xterra is built for performance, it's not perfect. The front seats leave something to be desired in the comfort department, with a lot of hard plastic and lackluster carpeting making it hard to really enjoy yourself while driving. The gas mileage is just about as mediocre as you'd expect with an SUV, so prepare to empty your wallet at the gas station. The ride is still pretty turbulent, despite the powertrain, making you feel more of the bumps on the trail than you might like to. Still, these concerns are relatively minor, as the Xterra still offers one of the best off road SUVs you can find.
2014 Jeep Cherokee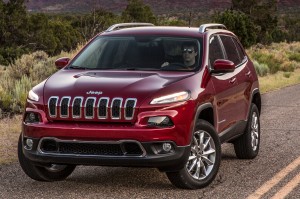 Pros: The old stalwart of SUVs, the Jeep Cherokee has been a mainstay in the off road SUV line for decades, and its newest model tries quite a few new things. First and foremost, it tries on a new skin – this more stylized version offers sleeker headlights, a variation on the typical Jeep grill, and rounder lines to make the chassis seem more designed and sleek. On the whole, it works; the changes are subtle, and this allows it to seem different while still being recognizable. The front seats are very comfortable, and the interior is quite spacious and good for families on the go. It still performs just as well as it always did, with the Cherokee's front-drive four cylinder engine offering decent power for the money while not going overboard. The accessories are quite handy as well, with the UConnect suite allowing you to easily integrate your smartphone into the Cherokee itself.
Cons: While the change in look is admirable, it doesn't make up for the overall sloppiness of the sheet metal, which lends it a flimsier feel. The driving position is also a bit off, but that's a minor concern. The fuel economy is about as low as you'd expect for an off road SUV, but it does get 31 mpg on the highway tops. The steering is also a bit wonky and unresponsive, making you strain to really figure out where you stand with the vehicle. Still, even the best off road SUVs have their little issues.
2014 Land Rover Range Rover Sport
Pros: The Range Rover Sport is a phenomenal vehicle with so much to offer someone looking for the best off road SUV. First off, the vehicle looks and feels great; the style is so fresh and exciting, making it look like the other Range Rovers of its kind. The supercharged V6 engine (possibly upgrade to a V8) is a roaring, strong machine, getting your Range Rover Sport over any terrain you might like. The engine allows you to get from zero to 60 in less than 7 seconds, giving your off roader quite a lot of muscle.
Inside, the cabin makes you feel like a king; every surface drips with style and leather, and the dashboard is simple and elegant. It's all so stately, you'll feel like you're driving on a throne. The active rear locking differential allows you to clear much more ground than before, and offers a slimmer size that could get you through smaller gaps that some of the bigger best off road SUVs can't.
Cons: As is our repeated refrain, the fuel economy is not great; even with the improved ratings, the Range Rover Sport taps out at 23 mpg. You'll need that money, too, because the Range Rover Sport is a king's ransom at $62,000 starting out; you'd better have the scratch to back up your desire for the best off road SUV on the market. While safety is still strong, the extra seating is child-size, and would not stand up to longer trips.
2014 Lexus LX 570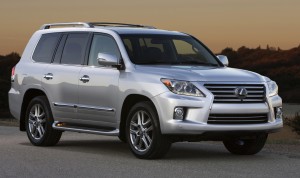 Pros: Lexus is known for its stylish luxury cars, and its foray into the world of the best off road SUVs is nothing to sneeze at. With the LX 570, the luxury factor is at its max; the instrument panel inside makes you feel like you're flying a spaceship – the controls are simple but intuitive, and everything is so incredibly stylish.
The powertrain is nothing to sneeze at either; 5.7-liter V8 engine gets 383 horsepower, and has four-wheel drive systems to allow you go take your luxury Lexus out on the deep trails. This car has immense towing capability, letting you play the hero while doing it in style. The features are also all great, with easy connectivity to your smartphone and the Remote Touch mouse opens up even more possibilities.
Cons: Even when compared to the other best off road SUVs, the LX 570 really suffers in fuel economy, with one of the lowest gas mileages for a car of its class. Then again, with the car starting out at $83,000, you can probably afford that kind of cash. The handling of the vehicle itself is less than perfect as well – the LX 570 is a big slow SUV, and it drives like one. Despite the superiority of its off-road capabilities, city driving feels like a bit of a chore. All in all, it's one of the spottier and pricier entries among the best off road SUVs, but you will definitely feel like driving in style with one of these.
2014 Toyota Land Cruiser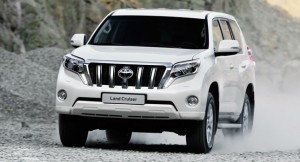 Pros: The 2014 Toyota Land Cruiser is the latest and greatest in a long line of the best off road SUVs, with a lot of weight to throw around. I mean that literally; it's one of the largest SUVs on the market, which makes you feel pretty sure about its ability to handle off-roading. The incredibly smooth but intense V8 engine pulls 381 horsepower, and the locking differential is finely tuned to provide maximum off-road capabilities.
Cons: Again, I repeat, fuel economy. This and the Lexus have some of the most dismal gas mileages of this type, but they both run about $80k so they will cost a lot anyway. For those of you who don't want your off road SUV to feel like a truck, consider another vehicle; it's big and lumbering, and it will feel like it in off road situations. For something as sleek and expensive as this, it's not very impressive-looking; there's nothing to make it stand out from your normal budget SUV, making its hefty price tag a bit confusing. The features are certainly worth it, and it is still one of the best off road SUVs you can buy, but there are many factors to weigh.