Minivans are a parent's dream – they let you get your kids to school, get you to work, get to the grocery store and back to the school before bringing the entire haul home. If you've got a big enough family, you practically need a minivan just to get everything done. At the same time, it can be a little difficult to afford a decent minivan. After all, having a family's not cheap, and every $1,000 you spend on a car is a grand less into their college fund. Luckily, the best used minivans are not out of reach; you really can have it all without having to break open your kids' piggy bank to do it. (Hint: please don't do this.)
The best used minivans are hard to find, but there are plenty of criteria to go by. First and foremost, you should find something within your price range, of course; after that, look for the best combination of features, stability, and aesthetics (just because you have a minivan doesn't mean you have to look like a soccer mom). Also be sure to Carfax to get the best used minivan – after all, you have no idea what the children who have been in it before have done to it. While it's always a good idea to check up on the car you're looking at, with minivans it becomes a higher priority. We've done our best to do the legwork for you, so here is a fairly comprehensive list of the best used minivans available to you; it should prove useful when looking for a way to get your family where they need to go.
2011 Honda Odyssey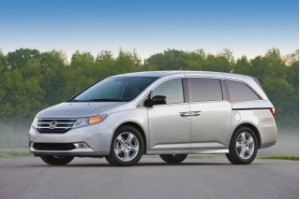 When it comes to the best used minivans, you can't go wrong with going just a few years back – you'll be able to get them at drastically reduced prices and they'll be practically new. The 2011 Honda Odyssey, for example, is a fantastic minivan, and you can get it for much less than its normal retail price, which is significant at $28,000.
Pros: The Odyssey handles like an absolute dream, and was the best handling minivan when it came out in 2011. It still maintains that tradition even now, with tremendous steering and suspension that will make your rides smooth as silk. Transporting your family has never been easier, too; the child-seat positions are the best of their class, allowing you to set your young'uns anywhere you like and still have them securely strapped in. The interior is also quite nice, with excellent upholstery and a great deal of space to work with. The three rows of seating allow you to seat up to eight, with variable seating on the second row. You also get all the amenities, including Bluetooth, iPod and USB interfaces.
Cons: There are a few setbacks with the Odyssey, but none that stop it from being one of the best used minivans you can get. The way the car is structured can make it a little difficult to see if there are oncoming cars when changing lanes. What's more, even used it's still fairly pricey, but not as much as if you were to buy it new.
2011 Toyota Sienna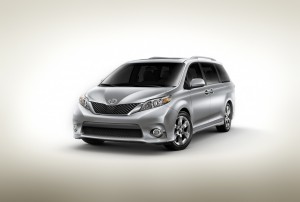 Pros: If you're looking for the best used minivan to put your family in for long road trips, this may be the one to get. The 2011 Toyota Sienna has a great deal of room, and second-row seats that are full-size and fit for adults. The look of the 2011 Sienna is great, more or less identical to its 2014 counterpart; it also handles just as well too. You will be able to round corners and make sharp turns without an ounce of discomfort, making it a great used minivan for travel. Loading your gear in is even easier, as the second row of seats slide back and forth to make room; you won't be caught shoving every last ounce of tarp into the backseat for your next camping trip.
Cons: If there are cons to the Sienna, they include the inability to store the second row seats inside the car; however, they slide and fold enough that you can pretty much get the job done. When it comes to entertainment, there aren't as many options as, say, Chrysler vans. Its fuel economy isn't great either, leaving you frowning at the gas pump. While the exterior is fairly exceptional, the interior feels somewhat cheap, making for a less fun ride than many of the other best used minivans on the market. This is most deeply felt by the cheap wood paneling on the interior of the door; it makes it feel like a station wagon at times.
2010 Chrysler Town & Country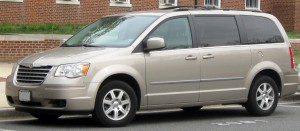 Pros: The Chrysler Town & Country is one of the best used minivans around, regardless of year – that being said, the 2010 model is a solid mix between affordability and quality. The typical Stow 'N Go seating is still there, allowing you to store extra seating inside the vehicle to allow for more storage space if needed. The ride itself is nice and quiet, with little to bother your sleeping toddlers on those long camping trip drives. Even if your little moppets are awake, the DVD and satellite TV systems will allow your little ones to be entertained so you can focus on driving. The features on this vehicle are staggering, with touchscreen stereo interfaces that allow you to store up to 30 GB of mp3s and other digital music.
Cons: For as fun as the Town & Country is on the inside, it's not very thrilling on the outside. It's function over form for Chrysler on this particular model, as the T & C looks boxy and unsexy – not integral components of the best used minivan, but you get my point. The isolated drive makes it feel strange to shift gears; the act of shifting itself feels touch and go, a bit too flimsy. The interior, while nice, is still fairly plastic-y for someone desiring the luxury experience. Finally, the nav screen is a little small and hard to see, making it a rough go for people trying to get places, if not dangerous.
2010 Kia Sedona
Pros: The 2010 Kia Sedona is a perfectly perfunctory, workmanlike vehicle that earns its place as one of the best used minivans through sheer gumption. Affordability is one of the biggest factors in this; even new, the 2010 Sedona is about $23,000, so the price goes down even more for a used one. The interior is quite large, too, providing plenty of elbow room for your family and your things; road trips are a snap in it. The Sedona accelerates quite nicely, with a powerful 3.8-liter V6 engine with 244 horsepower; the engine is smooth and highly torque, if not a little loud and rough-sounding at times. The fuel economy for the Sedona is pretty good, with 23mpg on the highway being something to consider for a minivan.
Cons: The Sedona is not without its faults, to be sure. For one thing, it's a profoundly unflattering minivan, with a fairly rotund and plain appearance that won't be turning any heads. The powertrain is strong, but unrefined; it could use a little more work to make it really smooth and shake-free. As for the amenities, the Sedona is sorely lacking, making it a little behind the curve on its competitors. The van itself handles a bit strangely, and it doesn't provide a greater overall sense of excitement or exhilaration when driving. While minivans aren't exactly meant to make you rethink your life, you should still be able to have fun with it.
2010 Volkswagen Routan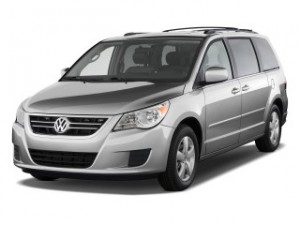 Pros: Volkswagen's entry into the realm of best used minivans comes with the 2010 Routan. Combining the best of Chrysler's minivan entries with its own VW-based aesthetic, the Routan has a nice mix of style and substance. The exterior, as befitting most of VW's efforts, is sleek, fashionable and gorgeous; it doesn't reinvent the wheel, but just provides some elegant lines and simple curves to make this minivan stand out. The 4.0-liter V6 engine is tremendous, providing the Routan with incredible power and smooth-shifting automatic transmission. The thing drives like a dream, and its handling is fairly nice. The crash safety rating is on par with Chrysler's, which is excellent, and it is capable of being outfitted with many different entertainment options. The 25mpg highway mileage is also very impressive, and the door/seat configurations make for easy packing/unpacking.
Cons: While the Routan has the VW name, it still has a lot to learn about keeping up with VW's own aesthetics. It is nice for its class, and is one of the best used minivans out there, but its interior is a bit basic and plastic to represent one of the most sophisticated car companies in the world. The engine itself is a bit rough as well, feeling bulky and somewhat ill-handled by the rest of the vehicle.